The Pleasures of Collecting Vintage Buttons
Have you ever considered taking up vintage button collecting? No, this does not mean the sort wherein you keep stray buttons in a cookie jar. Vintage button collecting means actually looking for buttons that were and have been used in various eras and then learning the stories, traditions and even anecdotes behind them.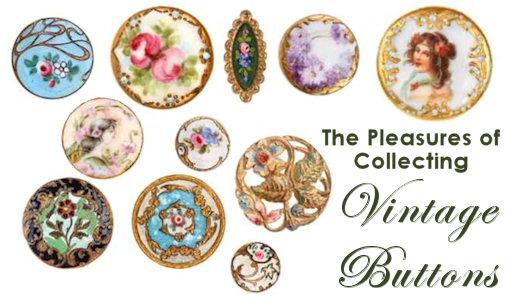 Buttons have been around for centuries. Originally, they were used as ornaments but in the 13th century, Germans have started using them as fasteners to the snug garments that were in fashion during those days. From there, buttons have become a definite must-have in every sewing kit.
Buttons from the Victorian Era
You can start collecting vintage buttons according to different categories. You can collect them according to when they were made. If you're interested in the Victorian era, then better start collecting buttons that were made to fasten clothes from that particular century. There are people who collect buttons according the design or where they were used. And there are also those who are interested in buttons that are made of specific materials.
Glass Buttons
Buttons are usually made of different types of materials. Glass buttons were mostly used during the 19th century. Black glass was widely used and was even in fashion when Queen Victoria started using it on her mourning clothes. Meanwhile, if you ever come across passemeterie buttons, then consider yourself quite lucky as these glass buttons are quite rare and difficult to find. Such buttons are made of small pieces of black glass assembled in a metal back to form what looks like a design for a specific type of fabric of the same name. Moonglow buttons are really interesting finds as they are made of what is called "satin glass." These buttons were famous in the forties to the sixties.
Bakelite Buttons
The buttons that we use today are mostly made of plastic. However, in the early 1900's when plastic was first introduced, there was an interesting type of button that became a popular find for those who are crazy about vintage buttons. Bakelite buttons could be dyed before they are formed into little circular molds instead of the other way around. Because of this asset, it was more cost-effective to produce these buttons over other types of vintage pieces.
Celluloid Buttons
If you're looking for a challenge, you would want to try looking for celluloid buttons. These are really fragile pieces that were popular in 1897. These buttons replaced the expensive tusk ivory types that were in fashion back then. But if you want a taste of history, metal buttons are a definite must-have. These buttons have been used in the late 18th century and they are really antique pieces in their best form.
More Than Just a Hobby
More than the pleasure of acquiring something historical, collecting vintage buttons can also be a source of income to most. You can start restoring old buttons and putting them on display for everyone to see. So go ahead and try vintage button collecting. You might find it a worthwhile and relaxing hobby.