Thanksgiving Kids Craft: Wooden Spoon Turkey Puppet
This fun craft also doubles as a puppet and kids can have hours of fun making and playing with them.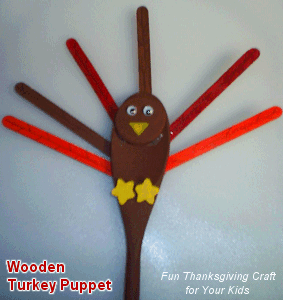 What You Will Need
Wooden spoon
Wooden circle, about the same diameter as the head of the spoon
Two wooden stars
Six Popsicle sticks
Brown, red, orange, and yellow paint
Thin black permanent marker
Paintbrush
Hot glue gun
Newspaper
Two googly eyes
Directions:
1. Put some newspaper down on a table. Painting objects is a little harder than painting on paper and can be a little messier, especially if you have younger kids doing this project.
2. Have the kids paint the wooden spoon, two Popsicle sticks and the circle brown.
3. Have them paint the stars yellow.
4. Then have them paint two Popsicle sticks red, and the last two orange.
5. Let them draw "feathers" onto the Popsicle sticks with the permanent marker; this can be done by drawing a straight line down the middle of the Popsicle stick, lengthwise, then drawing diagonal lines from the middle line to the edge of the Popsicle stick.
6. With adult help use the glue gun to glue the circle on at the top of the spoon.
7. Glue the stars onto the spoon where the base of the spoon meets the handle. These are supposed to look like feet so turn them whatever way you think looks best.
8. Glue the Popsicle sticks to the back of the spoon, fanned out so that they look like a turkey's plumage.
9. Glue the two googly eyes onto the circle.
10. Help the child paint a yellow triangle on the turkey's face for the beak.
You can also let the child add other accents to their turkey with the black permanent marker such as wings, eyebrows, and nostrils on the beak or you can leave it as it is.
Pilgrim Puppets
Pilgrim puppets can also be made in this same way by using other wooden shapes such as squares for men's pilgrim pants and triangles for the women's pilgrim dresses. Another option is to use material to make the pilgrims clothes and hot glue gun them onto the wooden spoon.