Thanksgiving Crafts: Appliquéd Thanksgiving Bib Pattern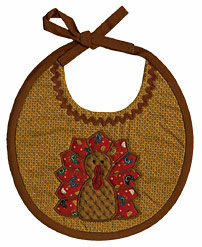 Bring on the turkey! The center of attention at your Thanksgiving dinner will be the cute little gobbler wearing this bib.
Materials:
Coats Rayon Thread- 39B Barberry Red, 48A London Tan,
Coats Dual Duty Plus All-purpose Thread– 56B Cloister Brown
Coats Medium Rick Rack–1 pkg. 128 Red
Coats Extra Wide Double Fold Bias Tape–1 pkg. 56B Cloister Brown
J & P Coats Embroidery Floss- 1 skein of 8403 Black
1/3 yd. of gold print
5″ Square of dark red print (turkey feathers)
2 1/2″ x 4″ piece of brown print (turkey)
1″ x 1 1/2″ piece of cranberry print (wattle)
10″ x 10″ piece of polyester fleece
10″ x 10″ piece of fusible webbing
General Instructions:
Use a 1/4″ seam allowance when sewing. Sew pieces together with right sides together, raw edges even and with matching thread. To fuse fabric to fusible webbing, center the wrong side of the fabric on the rough side of the webbing.
Fuse with iron according to manufacturer's directions. Trace pattern piece on the paper side of the fused fabric. Cut out. Peel off paper back from fabric. Fuse to base fabric.
Bib and Appliqué patterns: To download and print the patterns for the turkey appliqué, click on the link below.
>> Download Thanksgiving Bib Pattern
Directions:
Cut 2 bib shapes from the 1/3 yd. of gold print fabric and 1bib shape from the fleece. Center the wrong side of a fabric bib on a fleece bib. Center the other fabric bib right sides together on top of the fabric bib. Pin Sew together along the neckline only. Clip seam. Turn right side out. Press. Pin along raw edges.

Sew a piece of rick rack around the neckline 1/4″ from the neckline edge. Machine baste around the outside of the bib, 1/8″ from the edge

Allowing a 12″ length of wide Bias Tape on each side of the neckline for tying, enclose raw edge of fabric in the tape with narrower side of tape on the right side of fabric. Hint: Swirl tape before applying. Lay tape on project and use a steam iron to shape tape into a curve. Pin. Fold and press ends of tape 1/4″ to inside. Starting at one end, stitch close to edge of tape, continuing around bib to the other end of tape.

Fuse webbing to the webbing to the rust, brown and cranberry prints; trace and cut out the appliqués. Fuse motifs to the bib.

Set machine for a satin stitch (length between 0 and 1 mm, width between 2 and 3 mm. Machine appliqué the wattle with the Barberry Red, and all other pieces with the London Tan rayon thread.

Sew a French knot for each eye with three strands of black floss.
© 2004 by Coats & Clark Inc.
Reproduced with permission from Coats & Clark Inc.