Show your patriotic colors when entertaining outdoors this Fourth of July. These strip-quilted placemats are easy to make and a wonderful way to dress up your space for an Independence Day party.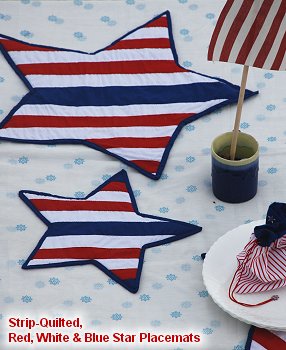 What you will need:
1 yard blue fabric 1 yard white fabric 1 yard red fabric foam sheet or thin batting waterproof lining material
Makes: 4 Placemats of 18″ diameter
Directions:
1. Cut one strip 2″ wide from blue fabric.
2. Cut strips of 1-3/4″ from white and red fabric.
3. Piece the strips as shown in picture.
4. Cut star shapes from the pieced fabric. Cut a foam/batting of the same size and also one lining.
5. Place the 3 pieces together – first the strip-quilted star, then the foam sheet star and finally the waterproof lining. Join the three layers with blue bias binding.
You can also make smaller stars for using as coasters to match the placemats.
Note: If using the stars for decoration instead of as tablemats, add loops to the back for hanging using the bias binding.