Starting Fishing this Summer? Here's what you need to know!
Fishing is a fast growing sport for women, but still many people dismiss it as a sport or a hobby for women. Want to get started? Don't know what kit you need? What to wear?or indeed what actually goes on when you get out there? Here's a guide to give you the info you need to know to get started, and start enjoying your new summertime hobby.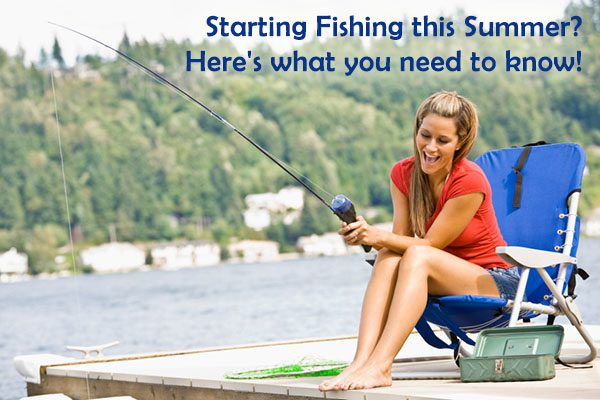 Early Evening Outings
This comes as a surprise to most first-time fishermen (or women!), but the best time to cast your line is early evening. In the day you can waste hours and hours watching an unmoving float or static rod tip, pulling your line back and forth through the sensors on bite alarms to make sure they're still working. No one tells you that all you have to do is turn up just after teatime and fish into darkness to have the best chance of catching something. Fish love evenings, particularly in the summer, as they lounge around during the heat of the day and then come out and about under the cool evening's darkness. Very early mornings are good too, but whereas the fishing usually gets worse as the morning wears on, the fishing gets better as night falls.
Location, Location, Location
Choosing the destination of your new fishing adventures depends on what fish you would like to catch and what equipment and bait you are using. Different regions and local authorities have different fishing conservation and protection laws at rivers and lakes in their area. So make sure you are up to date and knowledgeable on your regions fishing hotspots to make the most out of your sessions.
Fishing Fashion
Arguably fishing is not the most fashionable activity to take part in. However, having the right clothing apparel is essential. Waterproofs are a must, as are wellington boots. And although most fishers opt for the usual camouflage colors of green and brown, who says you can't rock your bright pink wellies?
Try Fly Fishing
If you listen to fly fishing instructors, you'd think that casting a fly properly is one of the most difficult skills to learn, and that it takes perfect form. This is not necessarily true… while good technique will help you in the long run by allowing you to cast safely, more accurately and without tiring yourself out, the key for the beginner is to absorb enough technique so you can get the fly out around 10 or 20 metres from the bank to the fish. If you have to break a few stylistic rules to get a bit of distance, so be it. Check out Fishing Hut for a great range of rods to get you started.