Star-Spangled Card, Patriotic Card-Making Craft Project for 4th of July
Greet friends and family with this easy to make star-spangled card using only paper cuttings in red, white and blue.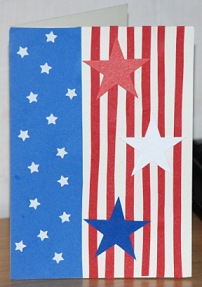 What you will need:
Cream colored card blank – 6″ x 4″ Red Craft Paper Blue Craft Paper Thick white paper (from magazines or papers) Star Punch Red, White and Blue Star Cutouts or Die Cuts
Directions:
1. Cut 6, 6″ long and 1/2 cm wide strips from red paper and stick them as shown leaving a space of 1/2 cm between two strips.
2. Cut a wide strip of blue craft paper and stick to the remaining blank portion of the card.
3. Punch out white stars from thick white paper. Use the un-printed portion of magazines and glossy newspapers.
4. Glue the stars randomly on the blue surface taking care that you do not apply too much glue and make the stars soggy or they will tear.
5. Glue red, white and blue star cutouts over the striped area and you are done!