Scary Jack O Lantern Tree Pumpkin Stencil
A spooky tree with Jack-O-Lanterns smiling their sinister smiles sitting atop and around the tree, makes for a beautifully scary pumpkin stencil to carve on your Halloween pumpkins.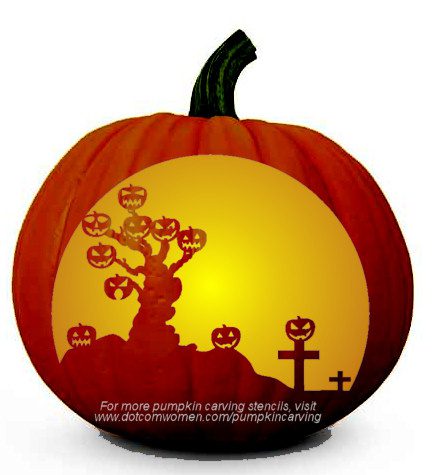 Don't be fooled by their smiles! The Jack-O-Lanterns are all gathered around this dried-up, spooky tree to bring to life some evil plan of theirs. A stunning design that will make your Halloween pumpkin come to life with a scary Halloween scene.
Download and Print the Scary Jack-O-Lantern Tree Halloween Pumpkin Stencil
Download and print the pattern. Tape it to your pumpkin and carve out all the parts colored gray. Save the pumpkin eyes and smiles for the end.