Quilted and Appliquéd Heart Pot Holders – Homemade Valentine's Day Gift Idea for Men
Make these along with the Valentine Heart Pocket Apron and you have a beautiful, unique gift set.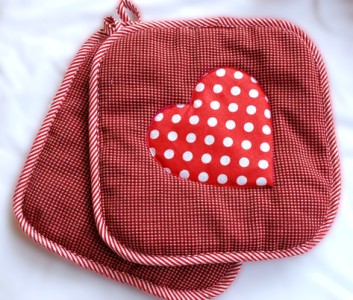 Materials Needed:
10″ of 44″ width thick fabric
contrast fabric for bias binding
2 pieces of  fibre batting
10″ x 10″ heart appliqué
Directions:
1. Cut 4 pieces of fabric 10″ x 10″
2. Round off the edges on all four sides.
3. Place the batting between 2 layers of fabric and pin together.
4. Bind with the contrast binding leaving a little extra at the start point to make a loop.
5. Cut a heart shape from any contrasting material and stitch it in the center of the pot holder.