Pickle Jar Snowman, Christmas Craft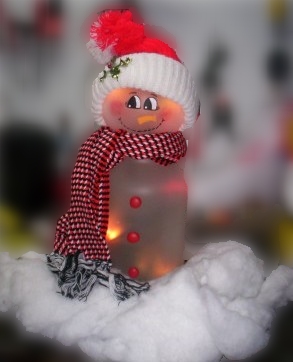 You can get the 1 gallon glass pickle bottle at any deli or pizza place for free and the rest of the materials used are all dollar store bought, so this cute little snowman is very cheap to make.
Materials
Glass pickle jar
frosted paint
large ivy bowl not fluted at the top, for the head
Strands of mini lights (sets of 20)
Glue gun
Accessories to decorate – hat, scarf and buttons, paints
Directions:
1. Stray frost paint and cover the glass jar and ivy bowl completely to give it a frosted look.
2. Drill a hole in the back of the jar and put a set of mini lights in it.
3. Put about 5-6 in the head and tape them up. Let the rest fall into the body and the plug run through the hole.
4. Glue the head (ivy bowl) with a glue gun. W used the 1 inch bit for the hole. If you use Glass Glue you won't be able to get the head off to change the lights if need be.
5. Now decorate your snowman. Paint a face, add a tiny cap, scarf and glue on some buttons.
6. Perch where you wish to display it and switch on the lights.