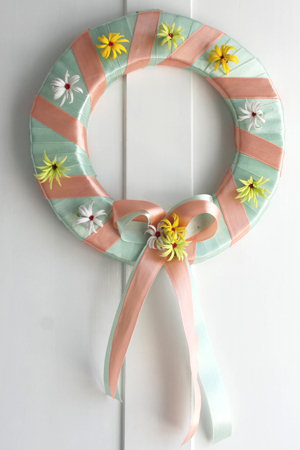 Why should Christmas be the only time that your much-neglected front door gets to dress up? With these simple instructions, you can make a beautiful wreath to welcome your Easter guests.
Materials:
• Styrofoam wreath • 2 10 ft rolls satin ribbon 1 ½ to 2 in wide-different colors that look good together (For a bright look, use pink and lavender; for a more subdued look, use ivory and buttercup, or two ribbons of the same color but a different style, e.g. sage green ribbon in grosgrain and satin) • Optional: Wired silk flowers that come in sprigs (waxflowers, spray roses, baby's breath) • Straight pins
Directions:
1. Roll pastel green ribbon around the wreath to completely cover it. Pin the ends of the ribbon at the backside.
2. Now wrap the peach colored ribbon creating spaces in between for the green ribbon to show.
3. Finish by cutting off the ribbon at the end and pinning it so that the pin does not show..
4. Now that your wreath is covered in ribbons, there are a few different ways you can finish it off:
By decorating the top or bottom with a simple bow using both ribbon colors.

Pin sprigs of small flowers randomly around the wreath

Make a small arrangement of silk flowers and greenery. Secure to the top of the wreath with hot glue. Then, loosely tie a bow around the wreath and the middle of the already-attached arrangement.
There are really no rules for an Easter wreath, so you can have fun! If a more traditional style with greenery and flowers suits you, do that, by all means. This is only one way to let your front door be a part of the special celebration. Let your imagination run wild!