Painting Eggs Instead of Dyeing Them – Easter Egg Decorating Ideas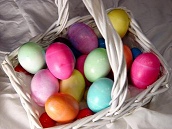 Many families have the tradition of dying Easter eggs on Easter morning. This is a wonderful way to spend some quality time with your kids while making some family traditions and memories that will last a lifetime! But to get even more creative and put a different spin on this holiday tradition, try painting the Easter eggs this year instead of buying a standard dye cut and being limited to the colours that are included with it. When you paint Easter eggs instead of dying them, the sky is truly the limit with the colours and patterns that you include on your eggs! Below are some different ways that you can tap into your creativity by painting Easter eggs.
Sponge Painting
Sponge painting your Easter eggs will give them a textured look that will be very different from the standard dying effect. Begin by taking a round sponge and cutting small triangles out of it. Dip the triangles in water colours, acrylic paint, or tempra paint. Gently dab the sponge over different areas of the egg. For a really dramatic effect, don't paint the entire egg with one colour. Once you have covered a few areas of the egg with one colour, allow to dry completely. Then use another colour to fill in the spots on the egg that remain unpainted. Let your child see how separate colours can be mixed to create a new colour. Once the paint has dried, have them paint over one colour with another. Just remember to place lighter colours on top of light colours. If you try to mix dark colours with another colour, the darker colour will dominate and you won't be able to see another colour.
Water Colours
Begin by cutting toilet paper tubes in half to act as a stand for the eggs. Get out water colours and some different sized brushes and go to town on the eggs! Get your kids to see what the paint looks like when they use different sizes of brushes. Pastel colours are a wonderful way to commemorate spring and they are also traditional Easter colours.
Tie-Dyed Eggs
Tie-dyeing eggs is a great way to really get creative and see what different patterns can be formed with using different colours of paint. This is also one of the easiest ways to paint eggs! Take a paper towel and apply different colours of acrylic or tempra paints on the paper towel. Don't use too much paint, a small amount will suffice. Place the egg in the middle of the paint and wrap the paper towel around the egg. Gently press the paper towel around the egg to make the paint flow in different directions around the egg. Gently unwrap the paper towel and see the tie-dye creation! Allow the egg to dry well.
Toothpick Painting
To get more creative patterns and designs on the egg, dip a toothpick in acrylic paint and have fun painting on stars, flowers, or any other fun designs! Smaller children can partake in this activity too by drawing different shapes on their eggs or by simply using the toothpick to make swirls and curls on their eggs!
Banded Eggs
This is another way to get great designs on your eggs. To paint with rubber bands, simply place a rubber band or two (or three!) around a hard-boiled egg. Paint the egg as you wish and when it is dry, remove the rubber band. You will have a beautiful egg that shows white stripes where the rubber band was. To put another twist on banding eggs, don't only wrap the bands around horizontally but also wrap them vertically and diagonally. The crazier and more creative you can get with the rubber bands, the better!
Remember when you are painting eggs, especially with small children, to use non-toxic paint, lay newspapers around the entire area, and wear smocks to prevent staining on clothes.