Mini Desk Drawers for Dad, Father's Day Crafts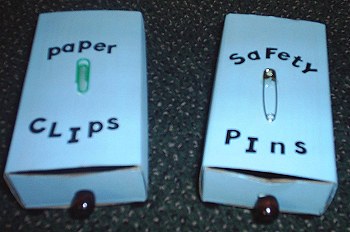 This fun and simple craft provides a wide range for kids to express themselves and still give Dad a gift that will be useful. Make Dad a drawer to hold any small desk item from paperclips and rubber bands to thumbtacks and pushpins.
What you will need:
1. Matchbox 2. Paint in various colors 3. Large wooden beads 4. Glue gun 5. Glue sticks 6. Letter stickers 7. Other decorative craft items such as stickers, pom-poms, and small wooden shapes
Directions:
1. Begin by covering a table with newspaper.
2. Plug in the hot glue gun and make sure it has glue.
3. Take the inside sliding part of the matchbox out.
4. Let your child paint the box and inside part of the box as they would like. They can paint it multi-colored, give it dots or even swirls.
5. Let the paint dry.
6. Help your child attach the wooden beads to the bottom four corners of the box, so that they act as little legs.
7. With the hot glue gun attach another wooden bead to the front of the sliding part of the matchbox for a drawer handle.
8. Help your child use the letter stickers to spell out what will go in the box.
9. Decorate the box with any other embellishments the child would like to add.