Make Your own Thanksgiving Gift Boxes
These boxes are perfect for little gifts for your guests during Thanksgiving dinner, or to hold little candies and place cards. With larger sheets of paper you can create even bigger boxes and use them for whatever sized gift you want.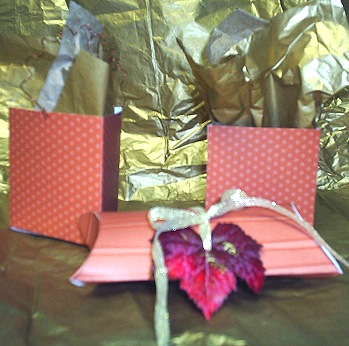 What You Will Need:
1. Heavy cardstock paper with an autumn pattern or colors (These can be found in scrapbook supply stores.)
2. Glue
3. Gold ribbon
4. Wire
5. Tissue paper
6. Paper cutter
7. Scorer
8. Ruler
9. Pencil
10. Compass
11. Scissors
Directions For the Square Gift Box:
1. Cut the paper so that it is only ten inches long.
2. Score the paper so that there are five 2-inch sections.
3. Score the paper down the middle lengthwise.
4. Along the 2-inch section scores, cut up to the middle lengthwise score. This will form the bottom of your box.
5. Fold the paper so that it is in the shape of a box.
6. Glue the extra two-inch section so that it overlaps one of the faces of the square.
7. Fold up the bottom flaps and glue them together.
8. You can use the wire to create a handle, like a gift bag or leave the box as it is.
Directions for Pillow Box:
1. Keep in mind, that making a pillow box may take a couple of tries.
2. Take your 81/2 x 11 piece of paper and hold it in the horizontal layout position.
3. On one of the short sides, Make a one inch tab (to glue the box together) by cutting one inch squares out of the two corners.
4. Mark the middle of the paper (not including the one inch tab). Score a line along the whole paper.
5. Use the compass to make 5 inch half circles that start at the middle of the page and go to the corresponding corners.
6. Do this on both of the 10 inch sides.
7. Score the half circles by lightly dragging the point of the scissors along the pencil line.
8. Score the line along the tab.
9. Fold the pillow box.
10. Glue the tab to the outside of the box.
11. Fold in the half circles.
12. Now you can tie a bow with the gold ribbon or add some other form of embellishment.