Lace Toilet Tissue Holder – DIY Craft Idea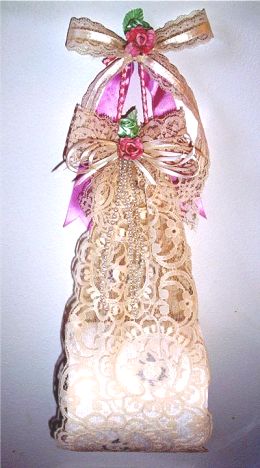 LACE TOILET TISSUE HOLDER
Materials Needed:
2 5 inch wide by 25 inch long piece of lace
a selection of ribbons
silk, dried or paper flowers
pearl strands
needle & thread
fabric glue or glue gun
any other embellishments you would like to add:
sequins
beads
old costume jewelry
tulle
Instructions:
Fold lace in half with right sides together machine or hand stitch the ends together add another row of stitching about 1/4 inch down.
Turn right side out.
Insert ribbon or decorative cording between the stitching and tie in a knot, to hang the holder.
Glue on ribbons and pearls.
Glue on flowers.
Use the picture as a guide and add anything else you like to match your bathroom decor.
by Pennie Mills of LadiesBlend.com.