Jeweled Cross Easter Egg – Easter Egg Decorating Idea
Decorate a charming Easter egg that is religious at the same time. A Swarovski cross inspired this design which is very simple to make.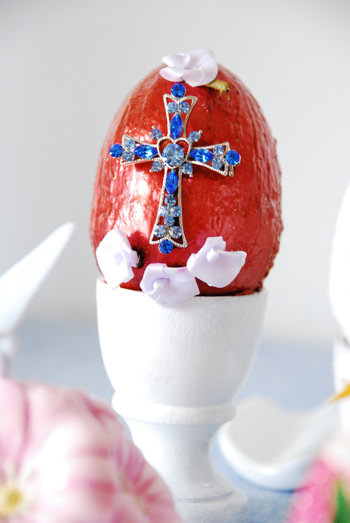 What you will need:
Styrofoam Egg

Swarovski or any other crystal brooch in the shape of a cross

Metallic shade acrylic paint that complements the colors of your cross

White satin ribbon roses
Directions:
1. Paint the styrofoam egg with a thick coat of metallic paint. We have used copper color to enhance the blue of the cross.
2. Holding the cross exactly how you wish to position it, push it deeply inside the styrofoam egg to that the clasp (un-opened) behind is thrust inside the foam. No glue or pins will be required.
3. Enhance the purity of the symbol by adding white flowers above and below.