How to make a Gift Basket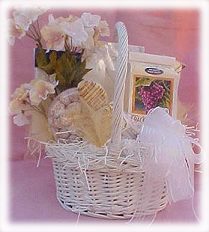 Let me start by saying that there are many ways to make a gift basket. Everyone has to find what works best for them. Sometimes it takes a lot of trial and error to find the method you're most comfortable with. So having said that let me tell you how I make my gift baskets.
I think it's important to find creative containers, not just baskets. Be creative. I have used bags, boxes, baskets, wire containers, ceramic containers, plant pots, hats and buckets just to name a few. After you've decided on the container, the next thing would be to choose the products that you'll use. You should pick products that fit the occasion, color scheme, age, religion, sex, dietary restrictions, etc. of the recipient of the gift. You would then need to fill the bottom of your container with newsprint (newspaper without the print) almost to the rim of the container. At this time it would be a good idea to add a piece of floral foam to one side of the container to anchor the enhancements you'll be using. Then you need to add shred to cover the newsprint. Shred comes in many different colors and styles, so be sure to look around before making your selection.
Your next step would be to add the products. I like to add the biggest or tallest products in the middle of the container and work my way forward. I have found the easiest method for me is to use skewers and strong packing tape to anchor the products. When you get to the back of the container, face your products outward so the back of the basket looks nice also. When you are  done adding products, you would then use silk flowers, tulle, decorative tissue paper, balloons, etc. to enhance your baskets and fill in any bare spots you may have. After you have finished enhancing the gift, you need to decide if you will shrink wrap or cellophane the gift basket. I choose to cellophane most of my designs, I just think it looks nicer. But, if you decide to leave a basket at a business for people to see, I would recommend shrink wrapping to prevent people from sampling and pulling apart the basket.
When you start to cellophane the basket, it might take a few times before you can get comfortable enough with the process of making the cellophane tight enough to look nice. I use curling ribbon the hold the cellophane in place and fan out the top. You should include a handmade bow, in my opinion it just looks a lot better than a pull-bow. There are many ways to make handmade bows. I use the bowdabra. It's very easy to use and comes with complete instructions. Ribbon comes in many different widths and colors. Remember to stay with the color scheme so everything flows together. Ideally, you should leave three forms of advertising on the basket. These should include a gold-foiled sticker at the top of the cellophane fan, the enclosure card and your business card. These should all be subtle and should not take away from the gift itself.
======================= Angel Luckel is the proprietor of 'Baskets With Distinction', a Gift Basket store.
Related Articles:Ideas for Basket-Bases Christmas Themed Gift Basket IdeasGift Baskets for Chocolate LoversBasket-Bases for Christmas Gift BasketsDecorating a Christmas Gift Basket