Homemade Halloween Costumes for Kids – Ideas and Inspirations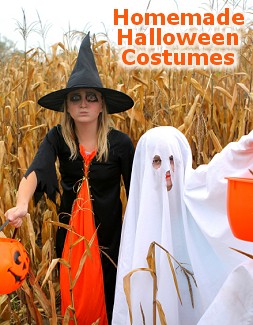 Pumpkin
To turn your little trick-or-treater into a pumpkin, you'll need to know how to sew. First. you'll need a large amount of orange fabric. Cut and sew the fabric into a round pumpkin shape with neck, arm and leg holes. To get the costume on and off, you can use velcro or even a zipper sewn into the back. Make sure to make the pumpkin large enough to be stuffed with tissue paper to give it a round shape. You can even make a hat that looks like a stem using cardboard and green or brown felt. Draw a scary face on the pumpkin halloween costume with a black fabric marker. Green, orange or black tights are the perfect thing to go with this costume. If it's cold outside, try warm leggings or snug-fitting sweatpants to keep warm.
Scarecrow
A scarecrow costume is easy to make! Just dress your child in some old denim jeans, preferably dark blue ones with a variety of patches. Add a flannel shirt and stick some straw up into the arm and leg cuffs with a little sticking out for effect. You may want to use a long sleeved undershirt under the flannel and attach the straw to the undershirt with fabric clue. For makeup, go for rosy cheeks and faux freckles.
Ghost
A ghost costume is probably one of the most classic and easiest Halloween costumes out there. For a traditional ghost, use a sheet with holes cut out for the eyes, nose and mouth. For a girl ghost, you can even put makeup on the face of the sheet! Or, you can try a different look and dress up in all white clothing, with white face makeup and temporary white spray dye for hair.
Hobo
A hobo is another easy Halloween costume you can make with clothing you have on hand, or clothing you find at a secondhand store. Try jeans or pants with patches and holes, a flannel shirt with holes or rips, and of course, dirty looking makeup! Try charcoal or black eyeshadow to create a scruffy beard, or use smears of brown eyeshadow to create the illusion of dirt. To top it all off, try an old, tattered hat! You can even hang a cardboard sign around you or your child's neck (whoever is the hobo) that says something like, "Will beg for food."
Geisha Girl
A geisha girl costume is perfect for your little lady! You can look in your local boutiques or order a pretty kimono or Asian-inspired satin dress online. For the makeup, start with a white base all over. Then add bright pink or red circles on the cheeks, strongly lined and shadowed eyes, and red lips shaped with lipliner or a brush into a dramatic bow shape. For hair, you'll want a bun accessorized with two hair sticks. Fair haired girls can use temporary black hair dye and use a black brow pencil for the most realistic look — just be careful and make sure the dye comes out with a wash or two before using it!
Continued on Page 2 – More Homemade Halloween Costume Ideas