'Happy Haunting' Card – Halloween Card Making Projects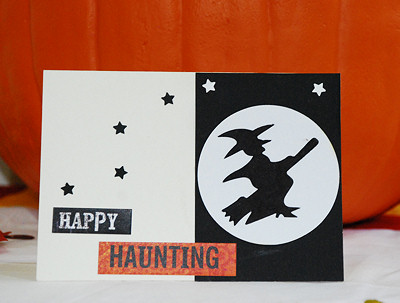 You will need:
Cream cardstock
black paper
white cardstock or circle diecut
White and black star punchouts
'Happy Haunting' cardstock stickers from daisyd's
Witch diecut/cutout or sticker
Directions:
1. Cut black paper to cover half of the cardstock as shown and glue in place.
2. Cut out a circle from the white cardstock or use a diecut/cutout. Glue it over the black paper.
3. Glue a witch diecut in the center of the white 'moon'.
4. Stick the 'Happy Haunting' stickers and embellish with star punchouts.