Halloween Scary Makeup Ideas
As Halloween approaches, you may be thinking about your costume and makeup. Here are some ideas and tips for scary Halloween makeup for kids and adults alike!
Skeleton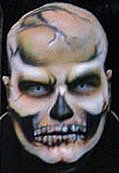 For this spooky look, you'll need a latex cap first of all to create a smooth surface. After adhering the cap to your head using spirit gum or special adhesive, it's time to create the skeleton look. You can use a kit like the Mehron Skeleton Tri Color Palette used for creating this look.
The first step is to apply clown-white foundation to the entire face and head. Use as many coats as you need to get an opaque look. Set the makeup with a light dusting of baby powder. Now it's time to create the features. Ring the eyes with black face paint to create a hollow look. Accent the nose with black as well, and draw some black lines around the lip area. Use a small paintbrush and the black paint to create realistic looking cracks in your "skull" Set the whole look once more with a very light dusting of powder, and you're good to go!
Witch
There are lots of different ways to do a witch face. First, there's the ugly witch. For this, you'll need green face makeup and black lipstick. Draw moles on face with a black eyeliner pencil.
For a glam witch, go for white face makeup, dramatic lined eyes, glittery eyeshadow, faux lashes, arched brows and red or black lips. In the Halloween department of your local variety store, you're also sure to find fake moles and warts to make your witch look as realistic as possible.
To create this look, we used this Witch Makeup Kit and followed the simple steps:

Vampire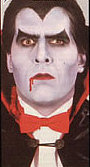 A vampire look can be easily achieved with a pale or white foundation, eyes lined in black, heavy mascara and of course, blood red lips. Add a pair of faux fangs for extra realism. You can even try using faux blood or red lipstick to give the appearance of blood dripping off the mouth. This look was created using a Vampire Makeup Kit by following these easy steps: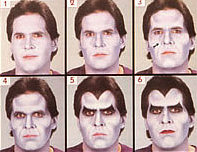 Zombie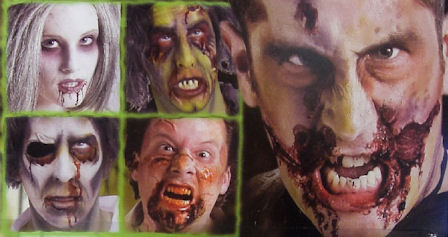 For a zombie, you'll want white, gray, green or even pale blue foundation. Make cheeks look hollow with some bronzer or dark eyeshadow. Use pale frosty lipstick in white or blue for a spooky look. These different Zombie looks can be created for an entire family or a group of friends using the Zombie Family Makeup Kit.
Frankenstein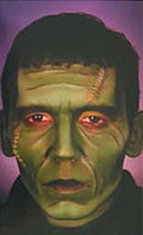 To create a fun and scary Frankenstein look, you can try one of the ready-made makeup kits available. We have used Mehron Frankenstein Monster Character Kit available at Halloween Mart for this look. You'll want to go for a green base, with gray or another dark shadow around the eye area. Create hollowed cheeks with dark gray shadow, and add stick-on neck bolts. Finish the look by painting some scars on with black face paint or eye liner. These are just a few ideas for scary Halloween makeup. With a little creativity and some different colors of makeup, you can come up with your own frightening Halloween looks!