This adorable mushroom only requires a clay pot with dish, a paintbrush, some paint, and a little glue. It can be made as a stool for dolls or figurines, a decorative statue, or even as a subtle decoration next to the plant in a big plant pot.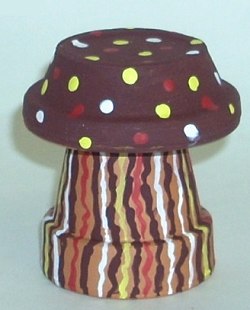 Materials:
Clay pot – 2 inches tall
Clay Dish – matching the pot, about 2 inches wide
Craft glue
Paint – brown, yellow, white, red
Paintbrush
Bead – 1×1 inch, will not be seen
Instructions: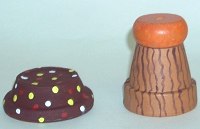 1. Turn the dish upside down and paint it brown. Let dry.
2. Make small dots on the dish in yellow, white, and red.
3. Turn the pot upside down and paint light brown, wiggly lines down it, like a mushroom stem. If you want a subtle look, use thin brown lines only. If you want a more colorful look, add red, white, and yellow stripes between the brown lines. Let dry.
4. Sometimes the pot and dish are too short, creating a weird looking mushroom. To solve this problem, glue a bead to the top of the pot (or bottom, since it's upside down). Then place the dish over the bead and glue. This adds a little height to the mushroom.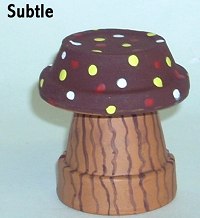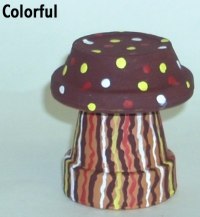 Notes:
If the color scheme in the pictures is just too wacky for you, don't be afraid, there are several alternatives. Paint the dish red and add some white dots. Use a thin, washed down bit of white paint and make the wiggly lines down the unpainted pot.
If you want to make the mushroom as a seat to display a doll, you'll probably want to keep the colors neutral. Use a mid brown to paint the dish. Use a light dusty brown (so not a lot of yellow in it) to make the dots. Paint the pot a slightly darker shade of the dusty brown and use the medium brown to create the wiggly lines.
by Aysha Schurman