Fringed Paper Flower Napkin Rings: Fall/Thanksgiving Craft
An easy quilling project to add a crafty touch to your Thanksgiving table. Fringe paper and quill it to form beautiful flowers and turn them into napkin rings.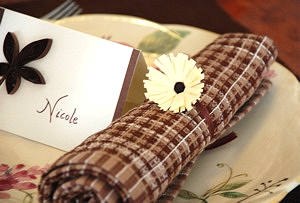 Materials needed:
1. Quilling strips in 2 different widths – cream and brown 2. Quilling tool 3. Brown satin ribbon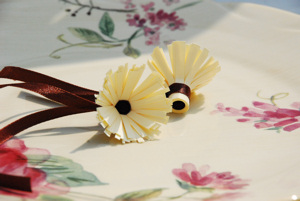 Directions:
1. Cut halfway through the wider cream colored quilling strips as shown in the image to the right.
2. Glue the thinner brown strip to the cream strip as shown and start quilling the brown strip and continuing with the cream strip when you come to it.
3. Glue the quilled circle shut and press back the fringes to form the flower shape.
3. Cut the brown satin ribbon in two pieces allowing for ample length for tying around the napkin. Fold each piece in half to determine its center and glue from the center around the base of the flower wrapping the base completely and leaving the rest to tie the napkins.