Free Pumpkin Carving Patterns – Stencils and Patterns for Carving Halloween Pumpkins
Halloween decorations simply wouldn't be complete without carved Jack-O-Lanterns waiting to welcome guests at the front door. Every year, creative minds take Halloween pumpkin carving to a different level with their latest designs. DotComWomen.com offers free patterns that you can download, print and carve your own Jack O' Lanterns or spooky scenes and creatures on your pumpkin for Halloween. If you like it different, we also have a selection of non-Halloween creative designs to turn your pumpkins into works of art!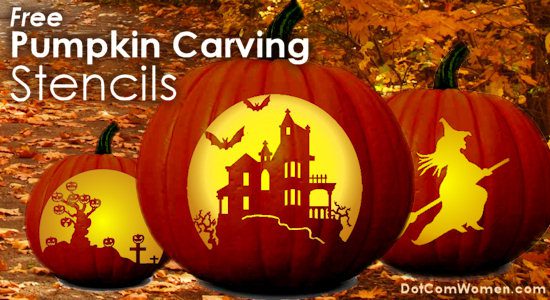 Check out our selection of free pumpkin carving stencils below. Each thumbnail will take you to a different page where you will be able to download and print the stencil for carving out.
Scary Pumpkin Carving Patterns
Jack-O-Lantern Pumpkin Face Patterns
Halloween & Fall Pumpkin Carving Patterns
Decorative Pumpkin Carving Stencils
> Jack-O Pattern (A Jack-O in a Jack-O!)
Related Sections:
Halloween Pumpkin Carving Tips
More Pumpkin Carving Patterns from our Sister Site:
Pumpkin Carving Ideas & Free Stencils