Fourth of July Paper Chain Decoration, Patriotic Craft Project for Independence Day
Decorate inside or outdoors with these easy paper chain and star decorations. Great decorating idea for a party too!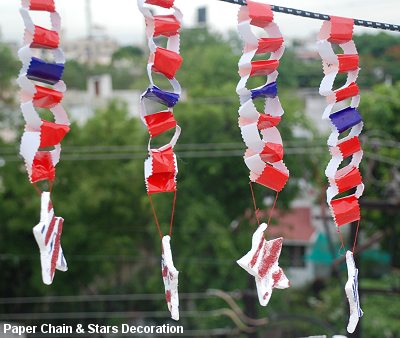 What you will need:
red, white and blue paper glue styrofoam stars acrylic paint in metallic red and blue colors embroidery thread in red color
Directions:
1. Cut equal sized strips from paper.
2. Make a circle from the first strip gluing ends to make a cylindrical shape.
3. Pass the second strip in a different color through the first circle and then glue ends.
4. Similarly, pass the third color strip through the second circle.
5. Continue till your paper chain of desired length is formed.
6. Paint the styrofoam stars in bright, patriotic colors.
7. Pass the thread through a needle and pass it through the top of the star and then through the last circle in your paper chain. Leave a desired length of thread for the star to hang freely and tie a knot. Repeat for all stars.
Use the decorations in any way you desire. We have strung ours from a clothesline to decorate outdoor areas for Independence Day.