Easy Halloween Napkin Rings – Halloween Crafts/Table Decor
Dress up a pretty Halloween table with these not-so-scary napkin rings that even kids can make!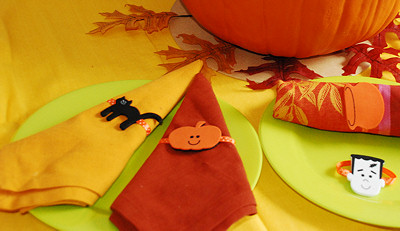 You will need:
Large Foamies or Fun Foam Cutouts – 2 for each napkin ring (You can get them in craft stores or even better deals on eBay)

1/8 inch Orange ribbon with white polka dots – 4-5 inches for each ring approx

Strong Glue
Directions: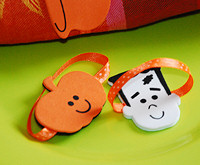 These are very easy to make. Cut out the ribbon in equal lengths depending upon how long you need it to be. You will need two identical foamies to make one napkin ring.
Start by covering the backside of one foam cutout with glue. Glue 1/2 inch of the orange ribbon on each side, right side down to the edges of the foam cutout.
Spread some more glue on the other cutout and glue it down on the first one, sandwiching the ribbon in between. See the image on your right for how the ring will look from back.
Make similar napkin rings using different Halloween themed foamies like pumpkins, witches, cauldrons, black cats, bats, owls and whatever else you can find.
Note: For some foamies, you may have to glue the right side down to make the back of the napkin ring to align them identically which is fine since they will only form the back of it which will not be seen. And this, only if your foamies have faces drawn on them like ours do. Otherwise, they will be the same on both sides.