DIY Button Embellished Flip Flops
Warm weather is coming, and thoughts of sunshine and beach days are not far behind. A perfectly simple project to take up right now would be DIY button embellished flip flops. Nothing conjures the thought of lazy summer days at the beach like a pair of flip-flops. Jazz up last year's tired flip-flops, or make an inexpensive pair from the drug store look spectacular!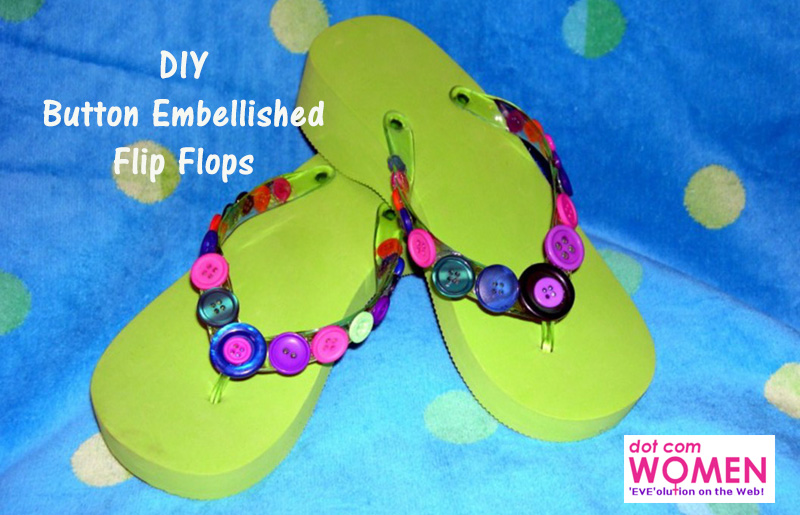 DIY Button Embellished Flip Flops – Summer Craft Project
In about 20 minutes you can transform an ordinary pair of flip-flops into a uniquely personal piece of wearable – and functional – art. This project is so easy; it's a perfect activity for a girl's birthday party or rainy day get together.
Supplies Needed:
• Your choice of flip flips in your size
• Spare buttons
• Hot Glue gun, glue sticks
• Tweezers
Time to make: less than 20 minutes.
How-To:
1. Each flip-flop will need about 15 buttons. Pick out your buttons and arrange them before you turn on the glue gun.
2. Hot glue cools quickly, so you'll need to work in small increments.
3. Begin in the center of the strap so you'll have a symmetrical look.
4. Apply a few drops of glue to the strap and place the central button over it, press.
5. Continue to work from the center to the ends of the straps, applying about ¼" to ½" of hot glue and placing 1-2 buttons.
6. If you have used any large buttons, you may want to add a small button on top for additional decoration.
Enjoy your fabulous flip-flops!
Pin it for future reference!