DIY Baseball Tote Bag for Moms
Baseball moms can proudly carry their stuff in this DIY baseball tote bag. Embellish a denim tote with stamps and paints.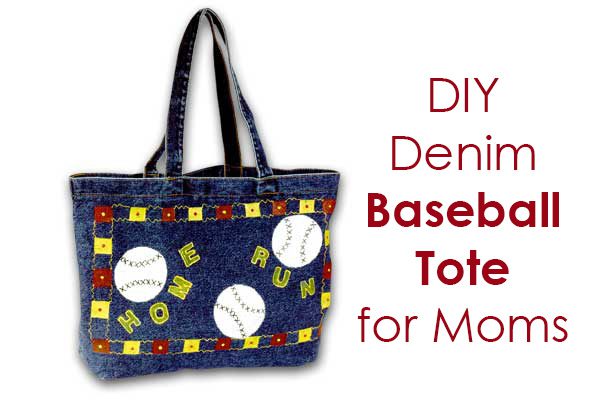 Materials Needed:
Tulip Sponge Pouncers
Chunky Stamps – 17675 Big Blocks Alphabet
Tulip® Dimensional Paint – 65000 White, 65003 Golden Yellow, 65012 Deep Red, 65038 Black
Aluminum foil
Compressed sponge or utility sponge
Denim tote bag
Masking tape
Scissors
Shirtboard or piece of cardboard
Instructions:
For best results, please read all instructions before beginning project. Refer to photo for color and design placement.
1. Wash and dry tote bag to remove sizing. Do not use fabric softener. Insert a shirtboard or piece of cardboard between layers of fabric to prevent paint from soaking through.
2. Place strips of masking tape around the edge of the tote bag to create a 1" border.
3. Squeeze Deep Red and Golden Yellow onto foil. Using a paint sponge, create a check border inside the taped area, alternating the two colors about 1" apart. Remove tape.
4. Cut a 3" circle from compressed or utility sponge. Squeeze White onto foil. Load sponge and press onto the inside area of checks. Press with fingertips to apply paint evenly.
5. Using a paint sponge, load alphabet Chunky stamp with Golden Yellow and press onto tote bag to spell "Home Run" Squeeze an uneven outline around letters, wavy lines between checks and a dot in the center of the Deep Red checks.
6. Squeeze a dot of Deep Red in the center of the Golden Yellow check.
7. Squeeze Black criss-cross stitch lines on the white circles to create baseballs.
8. Let dry flat overnight. Wash after 72 hours. Hand-wash inside out in warm water. Tumble or line dry.
Designed and Decorated by Debbie Rines