Decorating Christmas Gift Baskets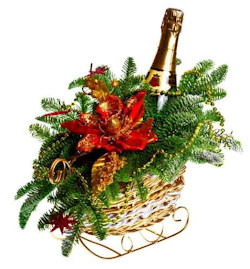 Making your Christmas baskets is a fulfilling activity during the holidays and enables you to create personalized gifts for everyone on your list.
Decorating process for a Gift Basket starts along with assembling. To give a special 'Christmas Touch' to your Gift Baskets, try some of these tips:
Fillers
1. You can enhance the presentation of baskets, boxes, tins, hats, etc. by first filling them with:
colored cellophane "grass"
crumpled tissue paper
a piece of fabric (try something with a Christmas print)
shredded newspaper or
coloured paper straw raffia
Use all of these in Red or Green or combine either with white. They will also provide cushioning for fragile items like a bottle, jar or glass ornaments and decorations.
Goodies
2. Finish up by tucking in:
candy canes
foil wrapped chocolate Santa, snowmen or other festive shapes
other foil wrapped candies
small pine cones
a bunch of cinnamon sticks tied with red ribbon
Christmas greenery like the tips of spruce and pine branches
Christmas ornaments
lots of small bows
mandarin oranges
nuts in the shell
small scented candles
Christmas baked goodies (wrapped in cellophane)
Gourmet gifts or Wine for adults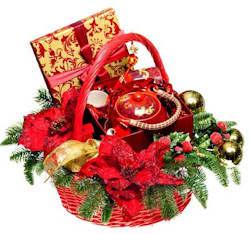 Wrapping
3. Wrapping the basket can be done in the traditional way by gathering cellophane around the basket and tying with a bright red or green bow at the top.
4. After wrapping, adorn the baskets with a sprig of holly or any other Christmas Package tie-on. If using a basket with a handle, perch a Santa, Snowman, Angel Teddy Bear, poinsettias etc. on the handle.