Clay Pot Wedding Favors – Clay Pot Crafts
This quick and simple wedding favor is a cute little flower pot filled with sweets. All your wedding favors can be created if you make, or buy, two flower shaped lollipops, some candy and a little confetti. Then put it in a small, decorated clay pot.
Materials: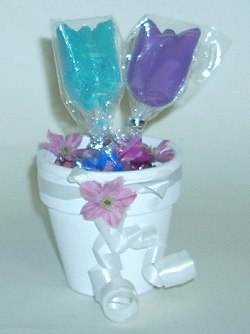 Clay pot – 3 inches tall, 2-3 inches wide at mouth
Fake flowers – any kind that matches wedding theme, just not any with stems. You need at least 1 for the pot, and 1-3 as pot filler
Styrofoam – scrap to stick lollipops into
Ribbon – fabric or paper wrapping ribbon
Candy
Lollipop – 2 – flower shaped
Confetti
Paint
Glue
Scissors
Instructions:
1. Paint your clay pot white and let it dry.
2. Glue scrap of Styrofoam in the bottom of the inner pot. Let dry.
3. Wrap a ribbon around the mouth of the pot. Tie a bow if using fabric, or curl the ends if using wrapping ribbon. Glue single fake flower in middle of knot. Let dry.
4. Stick lollipops into the Styrofoam to make them stick up. Then add a handful of candy until the pot is almost full. Scatter the top of the candy with some glittery confetti and fake flowers.
5. Move on to the next wedding favor and repeat the process.
Notes:
You can just use the two lollipops as he wedding favor if you're short on cash. This craft can also double as a place card holder, just glue the place card on a stick, slip the stick into the clay pot, and voila! It's a wedding guest place card holder and wedding guests favor all rolled into one!
by Aysha Schurman