Brown and Blue Daisy Birthday Card – Handmade Card Making Project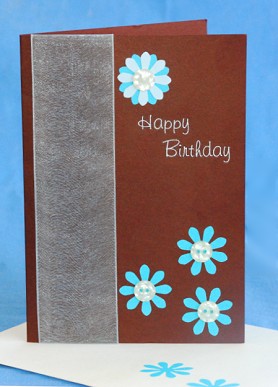 A very simple, yet pretty card that can be made in a jiffy. It is also a good idea to make such cards and leave them without the message tag so that they can be used for any occasion just by adding the desired message. Perfect for a birthday, spring time, Thanks or a Thinking of You card, the colors are such that make it perfect to gift to a man.
Materials:
Blank Dark Brown Card
Light Blue Card Stock
A Darker Shade of Blue Card Stock
Sheer Blue Wide Ribbon
4 White Buttons
'Happy Birthday' Rub-on sticker in Silver
Daisy Punch
Instructions:
1. Punch out one single daisy from the light blue card stock and about 8 from the darker blue card stock.
2. Glue the center of the light daisy in to one of the darker daisy cutouts positioning them so that the petals of the light daisy fill in the gaps of the darker daisy giving the daisy a fuller look.
3. Glue buttons to this double and 3 other single daisies and leave them to dry.
4. Tie sheer ribbon as shown neatly taping the edges inside. If the tape shows, glue across it a strip of the darker blue card stock.
5. Glue the double daisy at the top and 3 single daisies with buttons in their centers, at the lower right side as shown.
6. Add your greeting with a rub-on sticker using the stick provided with it to scratch and transfer it to your card.
7. You still have 4 daisy cutouts remaining. Add two to the inside of the card and two to the envelope to carry forward the theme.
You Might Also Like: