Baby Hand and Foot Print Keepsake
Keep those precious memories forever when you first welcomed your bundle of joy to your world. Here is an easy DIY project to make a cast of your baby's hand and foot prints for keepsake.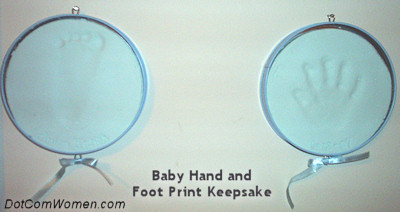 What you will need:
1. Shallow round tin with lid
2. Blue ribbon
3. Paper clip
4. Modeling clay in light blue or a mold casting kit
5. Hot glue gun
Directions:
1. Push the clay into each side of the round tin.
2. Smooth it out and make sure there are no air bubbles between the tin and the clay.
3. Prepare baby's hand and foot by washing them and drying them completely. You will most likely want to wait until a baby is at least three months old before doing this. It will be easier by this age because babies begin to open there hands more.
4. Press the baby's foot into one tin and the hand into the other. You will want them both to go about half-way into the clay for the mold to be visible when it dries.
5. Use the paper clip to record the date and the baby's name underneath the prints in the clay.
6. Use the hot glue gun to glue ribbon all around the outside rim of the tin. Have about five inches at each end left open at the top of the print.
7. Use the extra ribbon to create loop so that you can hang up the print.
8. Tie bows and use the glue gun to attach them to the bottom of the tin.
9. Be sure not to cover the prints for at least seven days so that the clay will have time to harden completely.