Autumn Leaves Card – Handmade Fall Card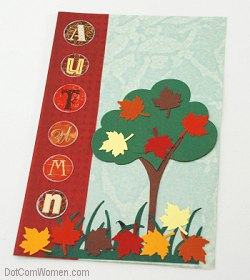 Craft a simple and pretty autumn leaves card for Fall or Thanksgiving.
Materials:
Patterned light green cardstock
Patterned rust colored cardstock
Tree, grass and leaves die cuts (available at craft stores or auction sites online)
Fall themed alphabet stickers
Instructions:
1. Fold and prepare the green cardstock.
2. Cut a strip from the rust paper and glue it to the left side of the green cardstock as shown.
3. Glue the tree, grass and leaves as shown mixing the colors of the leaves.
4. Glue the alphabets to form the word' Autumn' vertically on the rust cardstock strip.