Audrey Hepburn Pumpkin Carving Pattern
Make a Style Statement this Halloween! Audrey Hepburn fans can go really creative and carve the most stylish woman that ever was, on their Halloween pumpkins this year!
Print our free pumpkin carving pattern and then carve out the gray shaded parts to get the most beautiful pumpkin with the fashionable Audrey Hepburn welcoming your visitors.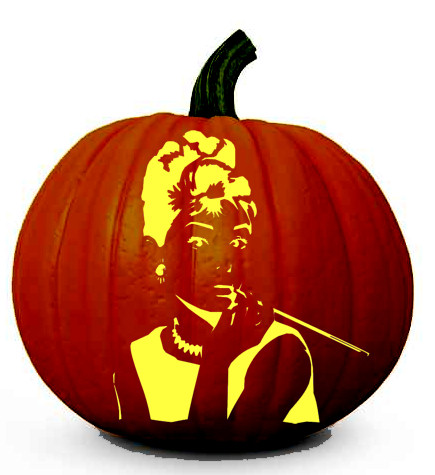 Want to do something different this Halloween? Keep the style factor high and idolize the famous Fashionista in your Halloween pumpkin. Our detailed pumpkin carving pattern will make sure you have an almost exact rendition of Audrey Hepburn. This is how your 'masked' pumpkin will look like when carved and lit. Click on the image to view full size pattern. Right-click and choose Save-as to save the pattern on your computer. Then, print out the stencil and enlarge or make smaller using a copier as needed for your pumpkin.
Download the Audrey Hepburn Pumpkin Carving Pattern and proceed according to our step by step instructions for carving a pumpkin. The pattern is very detailed and if you want your efforts to be saved for a longer time, you might consider carving your masterpiece on a foam pumpkin.