10 Household Stationery Items to Keep in Your Home
Whether it's to entertain the kids on a rainy day, take on a DIY project or make a unique gift for a loved one, there are some essential stationery items you'll need to stock up on. Plus, let's face it, everyone loves a trip to the stationery store! Below are ten key items to add to your craft cupboard: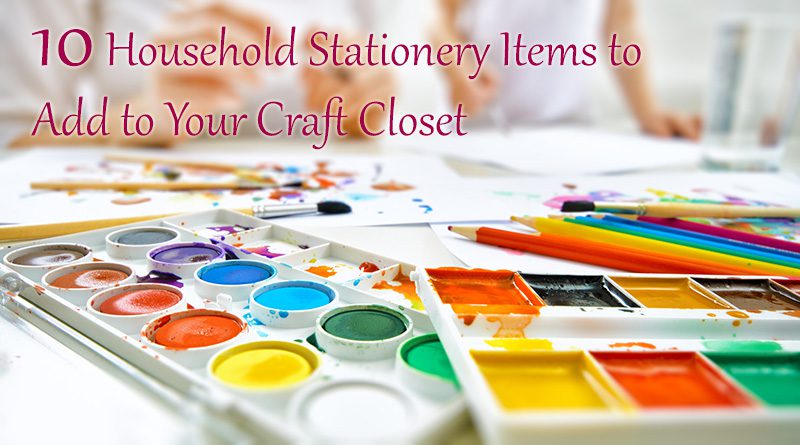 Scrapbook supplies
According to the Daily Mail, it is estimated that around 2.8 million British people create scrapbooks. Scrapbooking is the perfect rainy day activity and also makes an ideal gift to mark a birthday or wedding. Creating scrapbook albums with Home Crafts Scrapbook Supplies is a great way to treasure memories and tell stories through pictures and memorabilia.
Card
If you have no time to go out and buy a last minute birthday or Christmas card, having a collection of blank and decorative cards in the house is ideal. With a few stamps and embellishments, you can quickly create a beautiful and unique card (and the recipient will never know it took you all of ten minutes)!
Paper
This is one of the most basic stationery items but probably the most important! Whether it's coloured paper for your scrapbooks or notepads to jot down all your ideas, you'd be lost without it.
Glues
You can never have too much glue! PVA, glue sticks, glue dots; they all have their individual uses and you'll find they can come in handy for everyday projects.
Ribbon
Ribbon can transform any gift wrap or paper crafting project so make sure you stock up in plenty of sizes, styles and different patterns! Using bows and twine will also spruce up any craft project.
Sticky tape
Sticky tape and double sided tape should be an essential part of your toolkit, and they can of course be used for multiple projects around the home. Decorative tape is also a great way of adding a personal touch to handmade cards, gift wrapping and your scrapbooks.
Pens and pencils
Always have a large selection of pens and pencils in the house, specifically ones that are suitable for the kids to wear down when colouring or taking part in crafts.
Embellishments
These are the beautiful buttons, gems, stickers and flowers that will bring your card and paper making projects to life. For inspiration, Country Living is packed with DIY craft ideas. Make sure you have the right adhesives to stick your pieces to card, paper or fabric.
Cutting and shaping tools
No matter the craft, you're going to need the right tools for the job. From scissors and hole punches to paper creasers, they'll make everything a little easier and allow you to really transform your projects. You can purchase child-friendly tools as well.
Paints
No arts and crafts day with the kids would be complete without a set of paints to entertain them. You can find all types of coloured paints for various art projects which will keep them busy for days!