Businesses You Can Start Today with Little Start-Up Capital
If you dream about being an entrepreneur, the biggest thing holding you back may be finding the cash to start the business. However, while most companies will require an investment, there are some that can be started with little capital. Throw in the benefits that you'll be your own boss and get to make all the decisions, and these following businesses may be the best thing that ever happened to you (and your wallet). Check out these businesses you can start today and be on your way to entrepreneurial success.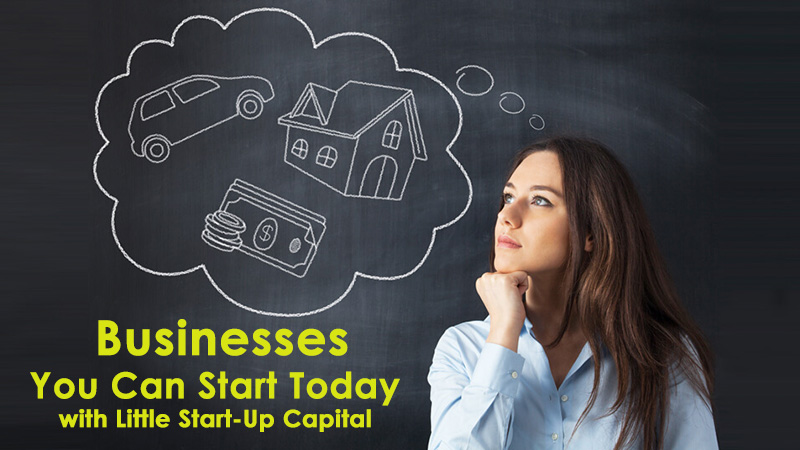 Graphic Design
If you have some creative juices in you and know how to use Adobe Photoshop, InDesign, Illustrator, or the like, then you should consider starting a business as a freelance designer. Aside from the cost of owning these programs and getting your name out there, you won't have to put up any other money to get started. Plus, it's something you can easily do from the comfort of your home at the time that's convenient for you. Once you build up your business, you can start to add on more graphic designers to tackle the work and keep earning you a profit.
Writer
In today's world where the internet rules all, companies are constantly looking for good content to help their blogs or websites rank higher on search engines. If you can put words together, becoming a freelance writer is a very cheap thing to start. In fact, you just need a computer and some good ideas, and you'll be on your way to earning a good career.
If you don't want to wait on other people to reach out to you for your services, you can also consider starting your own blog. This way, you can decide what topics you want to write about, and you can start earning money for the hard work you put in. For instance, getting your blog started should cost about $100 a year for your website, and that's about it. Once your blog has gotten some traction (be sure to push your posts on Pinterest and other social media sites), you can set up Google AdWords to earn money from ads on your site or become an affiliate marketer and earn money from additional links. Just remember the more work you put in, the more you'll get out of it.
Photographer
Photography has become a very popular job, and those who do it for a living make a nice chunk of money. To get started, you'll need to invest in a good camera and some photo retouching software. Once you have that, your costs will be low. Think about doing photoshoots outdoors where you don't have to pay for permits or backdrops, and then be sure to give incentives to those who deliver referrals. If you want to continue growing your business, then the only other costs you'll have is buying backdrops and lights as well as props. However, once you have all these, you won't have to continue making purchases and just let the money come in.
Cleaning Service
Most people dread having to clean their homes, so why not take advantage of this and offer to do it for them. Your start-up costs will be minimal, needing only cleaning supplies and some marketing. Be sure to offer a variety of services, as this is what will separate you from other services in the area. According to Amazon Cleaning, a maid cleaning service in Atlanta, "Using high-quality cleaning products that are safe and natural, as well as giving homeowners the option of what cleaning service they want, is what makes a cleaning company stand out from the competition."
Dog Grooming
If you have experience in the dog grooming industry, then starting your own company can be the way to go. You can do this out of your home, as long as you have the space to properly clean and style the dogs. Depending on where you live, doing this in your garage may be the best option, or you may want to make space in your basement or laundry room. Since you already have water and electricity in your home, the only other costs you'll need are the equipment. If you look for used equipment, you can get started for an even lower cost. Do some advertising, and let the company get started.
Becoming your own boss is easier than you think and doesn't require a large investment on your end. Use these ideas to get started on your entrepreneurial desires.