6 Ways to Make Extra Money on the Side
Most of us could use some extra cash now and then. You may be looking for a way to make some extra money to spend on travel, or perhaps you seek a permanent side hustle. Your options range from online work like transcribing, to in-person opportunities involving sales. Find one that fits your personality, schedule, and skills.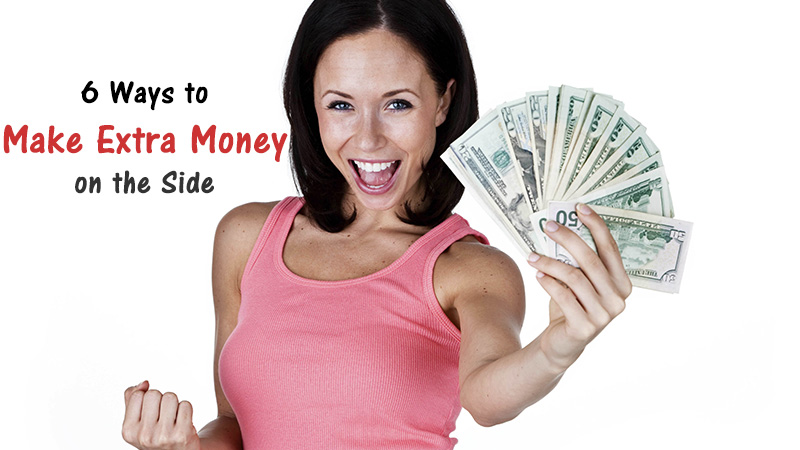 Rideshare Services
Got a nice car and great driving skills? Become a rideshare driver with Uber or Lyft. Signing up is simple, and depending on when you drive, you can make a significant chunk of change. If you want to maximize your income, focus on busy times when lots of people will be calling for rides. Nights, weekends, and holidays are best. These are your best chances of nabbing those surge prices, which increase your take for each ride. If you'd rather not talk to anyone, consider being a food delivery driver instead.
Sell Things Online
Old clothes, electronics, CDs, and more are all things you can sell online. You have a lot of options, including selling on eBay or Amazon Marketplace, making Craigslist listings, or hooking up with local buyers via apps like LetGo. Online thrift stores are very interested in buying your gently used designer clothes, shoes, and handbags.
Another option is to sell the crafty things you're already making at home. If you're an artist, knitter, or craft person, try opening up an Etsy store. Make sure you have great photos of your items before you start, and create a fabulous product description.
Search Online
No, we don't mean searching for side jobs online. We mean use Swagbucks to earn moneyUse the Swagbucks search engine, watch videos, and then take surveys. Earn points for these activities and cash them in for rewards once you accumulate enough. Nielsen offers an app that runs on your phone. It monitors your activity, collects data, then enters you into contests to win rewards.
You can also sign-up for several paid survey opportunities. Businesses are always looking for demographic information, and surveys are easy to complete. Try signing up for a few apps and websites, like Pinecone and Survey Junkie, to see which work best for you.
Sell Via a Business
Set-up your own mini-business by selling well-known products people already love. Put your natural friendliness and sales abilities to work without everything else that goes into running your own business. Try selling with Amway, where you can choose beauty products, nutrition supplements, and other great items to sell. Sales jobs are great for extroverts and for those who love meeting new people. Bonus: you'll probably get to throw a party or two to showcase the cool products you're selling.
Coach or Tutor Online
If you're good at something, even if it's not your profession, try teaching others to do that same thing. Online tutoring and coaching is a great way to sell your skills to others. Try tutoring websites if you're experienced in a subject and want to help kids or college students in school.
If you'd rather work with adults, do coaching or consulting work. Many people search Clarity.fm for experts, and if you're one of those experts, they can hire you to consult. Conduct video chats as consulting calls, and get paid by the minute.
Do Online Transcription
Medical and legal transcription is a side job you can do from home. You'll need to have some familiarity with the fields, and be fast at typing. The pay is for each hour of audio you transcribe, not by how long it takes you to do it. However, it's simple work, and the pay is often between $15 and $25 an hour. Doing an hour here and there could pull in some serious cash. You might even find podcasters and videographers who need their media transcribed, too, so always be on the lookout.
Supplement your current income, start saving for a new house or car, or add to the kids' college fund. Extra money on the side is always a great thing to have.