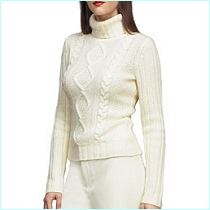 Look real 'cool' in White this Winter. This basic color weaves its magic even when it is white all around.
White proves to be one of the most basic colors on the fashion scene from the past till today. White is a classic color that goes with any setting. However, the trick to coordinating white on white has always been a cry to walk on thin ice; but in this dilemma, there are three rules to recognize.
Firstly, take to mind what white did for brides! When yearning for attention, wear a stunning pure white dress or tuxedo ensemble to keep all eyes on you. Engulfing yourself in white is like saying, "Hey! Look at me!"
Secondly, texture is key! The Temperatures are getting colder and anything fuzzy is definitely not summery. Try cotton blends or cowl- neck sweaters to heat things up! When accessorizing, try to incorporate soft lambs wool scarves, cashmere gloves and classic knitted caps to reinforce warmth.
Lastly, unlike black, you can combine tones of white. Different diverse shades of white fuse together and keep a balanced appearance. Experiment an off-white creamy fitted turtleneck with a part of snow white leather pants to stay sizzling even without the sun's rays.
Use these helpful hints and your individuality to unravel the secrets of keeping true to this unique hue!