Layered hairstyles suit almost all types face and hair types. Women looking for trendy medium length layered haircuts will love this style for the sheer sophistication factor.
There are many variations of haircuts in layers like soft, classic, straight cut layers, choppy layers or razor cuts with layers. When choosing a layered haircut, select a hairstyle that suits your face type. Another important factor that you should consider is the maintenance of the hairstyle and the versatility of the hairstyle to go from casual to party. Let us take a look at the different styles of layered haircuts for women with medium length hair, depending on hair type and the types of faces that suits him.
Layered Haircuts for Straight Hair
Parting and Curls
There are many options when it comes to layers styles and haircuts ideas for women with straight hair. You can get a classic, yet trendy hairstyle in layers that you can wear to work as well. You can have a middle parting or a side parting and inward curls at the ends. This style is most often sported by celebrity Eva Longoria. For a little deviation, simply curl your ends outwards to create a more elegant look for a party.
Bangs and Fringes
If you have a large forehead, or are looking to style your hair even further, consider adding bangs to your hairstyle. There are two options you can opt for: the straight blunt bangs, or a side sweeping fringe. If you want a soft and elegant look, consider a medium layered haircut with side bangs.
For a bolder look, go for a round fringe (looks amazing if you have dark hair). If you want to soften the hair, trim some ends.
Razor and Choppy Layers
You can also consider running a razor cut on your hair to give your hair soft wispy ends. If you have fine hair, instead of going for a razor cut, go for choppy layers to make your hair look fuller.
Layered Haircuts for Wavy Hair
Wavy hair gives a soft and  romantic look. For wavy hair, layered medium haircuts for round faces should be cut so that there is more hair at the top and gets tapered towards the tips. This look can be seen in the wavy hairstyle of Vanessa Hudgens. To add more texture to your wavy hair, use color to make your hair stand out and look even more wavy.
Bangs
If you wish it to keep it simple and manageable, then go for a wavy, medium layered haircut with bangs. Cut the front of your hair into side bangs and then part the bangs to create different looks. Keep the length of the bangs just below your eyebrow level for a sexy look.
Layered Hairstyles for Curly Hair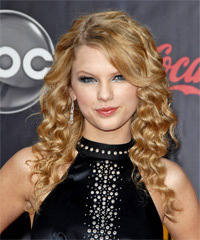 To make your curly look prettier, get medium to deep layers in your hair. Choose a side parting and leave the conventional middle parting of medium length hair that most women with thick curly hair stick to.
Whenever cutting your curly hair make sure you cut your hair longer than the desired length, because wet curly hair after drying will curl up and decrease in overall length.
Instead of going for deep layers of curly hairstyles, cut your hair with strands in layers so there is a variation in the length of the curls, and you can wear your hair in loose curls, similar to Charlize Theron's Curly Hairstyle.
And a final word for all types and lengths of hair – to keep the layers in your hair maintained, visit your hairdresser every 6-8 weeks. To add more texture to your hair, play with hair color and try to make the layers stand out even more.