Laura dos Remedios is a beauty expert who has been working as a Makeup Artist in Hong Kong, Tokyo, Paris and London for over fifteen years for Magazines, Advertising, TV commercials, MTV, Music Videos, and Fashion Shows. She shares with DotComWomen, her secret tips to choosing the right foundation.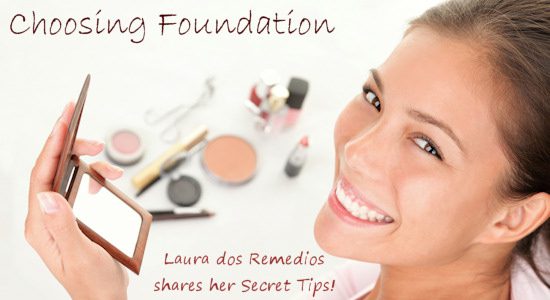 As a makeup artist, I notice peoples' makeup when I am out and about, shopping etc. and I notice a lot of women who are wearing the wrong shade of foundation for their skin tone.
The job of foundation is to give the appearance of naturally gorgeous skin, not to change its color. (That is the job for bronzers.) It should be unnoticeable to anyone but you.
Try Them On
The only way to find the right color for your skin is to be brave and go shopping with no foundation on, armed with a compact mirror, and try the bases on your face. Blend a small amount onto your cheek, near your jaw, and go out of the shop into the daylight. If it is the right color you'll barely see it, it should match and blend right in with your actual skin color. You may have to buy two foundations and blend them together to get the right color. (In fact, when I am working, I find it is rare that I don't have to "mix" to get the right color for the model) This may sound pricey but as your skin color can vary with the seasons, it really makes sense.
Translucent Powder
After finding the right color base (if you haven't bought one of the "Crème to powder" foundations) don't go putting the wrong color powder on or you will ruin your hard work, the best option is to buy a "translucent" powder, which is slightly paler, as it will not affect the color but will "set" your base.
Colors for Base
N.B. Most of us have a yellow undertone to our skin; a pink undertone is very rare. Steer clear of any base that looks slightly pink or orange…
If you are Black, you will either have yellow or red undertones. Very often the central panel of your face is lighter that the outer part of your face, try to get a base that is a shade between the two tones.
Don't Skimp
I also recommend spending as much as you can afford on your foundation and powder. You can get away with cheap mascaras and lipsticks etc. but you can tell a cheap base a mile off!