Just like the vibrant colors that are in style this season, stylish sweaters are also making bold statements with rich and luxurious colors. Fringes are in and so are embellishments. Here are some of our top picks for the season: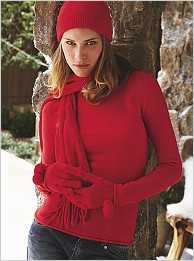 Holiday Sweaters from Victoria's Secret
Victoria's Secret tops the list with it's most affordably priced range of sweaters for the holidays. The ongoing sale on their website reduces the prices of some sweaters to $19 so make a rush for them while their sale is still going on.
Even their silk-cashmere sweaters placed in the range of 'Luxury Sweaters' are priced between $39 and $100. These sweaters are beautifully embroidered and embellished and will look great in the oncoming holiday party season.
They definitely get my thumbs up!
Visit Victoria's Secret to shop online.
Ruby Red Loopy-fringed Cardigan by Coldwater Creek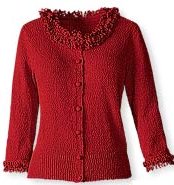 Get into a holiday mood with this ruby red colored, fringed sweater by Coldwater Creek. Uninhibited fringe on the neckline and 3/4 sleeves puts the `party` in this reserved knit cardigan. This sweater is affordably priced at $69 and is also available in Deep Purple and Pear Green colors.
While you are on their website, check out their suede jackets. They have some very good ones in their collection.
Available Online at Coldwater Creek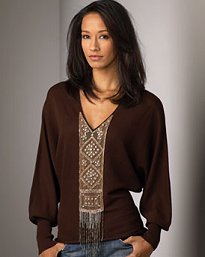 Fringes and Embellishments by Neiman Marcus
This V-necked, chocolate-colored sweater has long butterfly sleeves and ribbed, banded cuffs and is for those who are looking for some change from the classic styles. Fringes and earthy embellishments in the form of rhinestones add a bohemian edge to this classic wool sweater by Tracy Reese.
Priced at $269, this is not your average affordable price range, but if you are looking for something trendy and a little pricey, then this is the one for you.
Available Online at Neiman Marcus
Classic Plain Cashmeres at Bluefly
If fringes and embellishments are not your style, Bluefly has a classy collection of sweaters in plain, bold colors. Black has made a comeback this season and looks very classy in turtlenecks and crewnecks. Other colors include ivory, navy blue, charcoal grey etc.
Shop Online at Bluefly
RELATED ARTICLES:
• Creating Your Style with Scarves
• Coat Trends for Fall/Winter 2005-2006