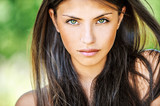 Although summer can be an enjoyable time, it can wreck havoc on your hair. Elements like sun, chlorinated water and ocean water can damage your hair and leave it dry and brittle. Luckily, there's plenty you can do to keep your hair healthy and beautiful this summer! Read on for some great summer hair care tips:
Sunscreen for Hair
If you're heading to the beach, you don't just need to protect your skin with sunscreen, you need to protect your hair as well. Many of today's hair care products come complete with sunscreen, so be sure to read labels. One smart idea is to dampen hair, then coat with a protective leave-in conditioner that contains a high SPF sunscreen. Not only will your hair be protected from the sun's harsh rays, the heat will help the conditioner penetrate the strands, leaving your hair more healthy and beautiful than ever. If you get your hair wet with seawater, it's important to rinse it out afterwards with club soda or mineral water. After rinsing, reapply your leave in conditioner. If your hair is fine textured, then you may want to choose a leave in conditioner that comes in a light spray form.
Seawater Products
However, seawater isn't all bad. Some professional stylists actually fill spray bottles with seawater and use it to add texture and volume to their client's tresses. However, straight seawater can be drying, so it's probably better to use a special product designed to be gentle and nurturing. Some good choices are John Frieda Beach Blonde Ocean Waves Spray and Bumble and Bumble Surf Spray.
Care while Swimming
If you're planning to swim in a chlorinated pool, your best bet is to cover your hair with a bathing cap. If that's just not your style, then at least be sure to protect your hair. In this case, coat dampened hair with a rich, deep conditioner that will protect it from chlorine damage. Chlorine can turn certain shades of hair a greenish hue, so be sure to rinse hair with club soda or preferably wash it with a special shampoo designed to remove chlorine.
Easy Hairstyles for Summer
Summer is a time when casual updos are the style of choice. Because it's so hot, many women don't like wearing their hair down, especially if it's long or thick. One easy upswept look is done by gathering your hair into a ponytail, then twisting it. Tuck the ends under the twist and secure with a sturdy clip. And that's all there is to it!