Lucire Magazine Pre-Launch Interview – Interview with Jack Yan of Lucire Fashion Magazine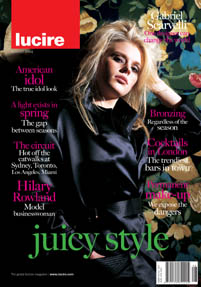 1. Lucire has been online for over 7 years now. Why is the print edition so late in coming?
It was a matter of credibility and finding the right opportunity. If we had done it earlier, we could have still been viewed as a "new" dot com, when faith in the internet market reached a low. There were a lot of business failures around then. Now, the internet has become more ubiquitous and Lucire, I believe, is a brand that stands apart from merely one web site.
Therefore, in 2003, we began looking far more actively to launching Lucire as a print title, and approached a few companies globally on financing. Ultimately, we decided we would do it ourselves. The clincher was our 52 pp. L'Oréal New Zealand Fashion Week supplement PDF in November 2003: that proved we had the capability and the people. Indeed, in 2004, there is demand from an advertising perspective for Lucire as a print title which did not exist before.
2. The Fashion Print Magazine market is full of big and small players. Some are good and some really bad. How will Lucire differentiate itself from the crowd?
No one has really done a global fashion magazine before, at least not for consumers. Sure, Vogue and Elle are global brands but they are collections of regional magazines. We wish to create a single fashion title with only small adaptations for national and regional markets. Secondly, Lucire is not the mouthpiece of the PR companies: it isn't online, and it won't be in print. Our competitors seemed filled with "special promotions" and I think consumers are far cleverer than that. Thirdly, Lucire aims for the highest common denominator: an intelligent woman. For too long, this industry has treated women as "not good enough unless you buy Product X"; we are saying women are smart and good enough as they are, and "Product X" might help them, if they choose, express themselves. Finally, our environmental commitment as the United Nations Environment Programme's first fashion industry partner means that we are looking at environmentally friendly practices that we will hold ourselves and our licensees to—without breaking the bank.
3. Will the print version be a clone of the online version or can we expect something fresh and new?
You will see some cross-media articles, but in no way will the two have identical copy. The print edition may have shortened articles from the web one; equally, the reverse may happen. We aren't going to sacrifice our online readership on whose loyalty we are riding.
4. Lucire.com, being online, has worldwide reach. Based in New Zealand, do you plan to tap the Fashion Literati all over the world?
Absolutely. We happen to be headquartered in New Zealand but it is a global title. Lucire, as a print magazine, will not be a single-nation title.
5. Most Designer Collections are a bit impractical for the working women and moms. Dot Com Women would like to know if you will address the Fashion needs of Moms, Working Women and Housewives.
Just by being honest. All women are smart, and they will be able to find something that suits them, regardless of whether they are single, mothers, working women or housewives. We have some strong market pages in the front of the magazine that keep readers informed of trends and we suggest practical, everyday clothes that you can buy off the racks right now.
In addition, we publish stories based on the Lucire StyleTalk forum, where readers congregate and share their thoughts, and this 'Report from the Real World' section keeps us very grounded.
Since we are here for our readers, not the PR departments, we choose to be "of the people, by the people and for the people". If it works for a democracy, it can work for a magazine.
6. Besides Fashion, Volante and Living are popular sections at Lucire.com. Can we expect more on Travel and Lifestyle in the print version as well?
Absolutely: these are very important parts of the print title and will be retained. We will have them, and travelers can book online with the site.
7. Your last word on the Lucire Print Edition.
For too long women have been short-changed. It's time for Lucire. Let there be light!
Jack Yan, LL B, BCA (Hons.), MCA CEO, Jack Yan & Associates CEO, Lucire LLC
   All Rights Reserved. Copyright © Dot Com Women. Please do not reprint in whole or in part without express permission.