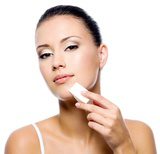 Applying foundation correctly is the first and foremost of good makeup. Get tips and tricks from an expert on correctly applying foundation and concealer.
Before Applying Foundation
Step 1, cleanse and moisturize your skin (or at least moisturize) and wait a few minutes for the moisturizer to be absorbed.
Applying the Foundation
The following tips are for liquid or crème foundations. (For 2 in 1, or crème to powder compact type foundation, use a damp sponge and start by applying and blending from the eyes and T-zone outwards, similar to the steps below.)
1. Start by dotting foundation in the areas you think need it most, before blending it in with a damp makeup sponge.
2. Start around the eye area and blend outwards. Avoid putting foundation very heavily. The aim is to cover flaws and even-out skin tone, but still see your skin.
3. Make sure you blend the foundation well and don't forget to bring it down over your jawbone onto your neck.
4. Don' forget to blend it into your hairline.
5. Apply concealer after foundation. The "old school" always applied it before but it is more effective after the foundation, as long as you take care to blend it well.
6. If you have one of the light reflecting concealers, like "Touche Eclat" by YSL, now is the time to apply it. Read our tips for 'Choosing a Concealer' to learn which one to buy.
7. Before you set your foundation, (with a loose powder,) make sure there are no "creases" in the base, usually round the eyes or mouth. Smooth them out with your sponge and powder straight away.
8. Using a powder puff, apply the powder by gently pressing it into the skin, be liberal with it, and concentrate on the eyes and creases around the nostrils.
9. Then, using a large powder brush, dust off the excess powder in a "downward and outwards" motion. Take care to dust in any crevices too!! e.g. around the nostrils.
Voila!!!!