Handbag 101 – Handbag Styles and which one to choose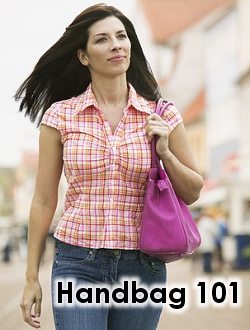 There is always that woman; you know the one I am talking about. The one who seems to always look good, the one who can take an ordinary outfit and make it seem as if it was meant just for her, the one with that innate fashion sense. What is it that makes her outfit look so good? Chances are that it is that she pays as much attention to her accessories as her choice in clothing. One accessory that can make the difference between ordinary and fashion chic is a handbag.
Choosing a Handbag for Your Body Type
Choosing a handbag that will go with your body type, your outfit and still hold your essentials for going out is an interesting task. To help you in your search here are the basic types of handbags:
Tote – A bag with traps or handles and an open top.
Hobo bag – A crescent-shaped shoulder bag with little structure.
Duffle – Tall shoulder bag, often with a wider opening on top.
Field bag – A flap-top shoulder bag with some way of closing it (buckles, snaps, etc).
Clutch – A small, handheld bag (most often used for evening wear).
Satchel- A large, handheld bag.
Baguette – A bag that looks a lot like the bread; long and rounded.
Messenger – A large, soft shoulder bag with long straps (often worn across the body).
Cigar Box – A small, boxy, hard bag.
Pouch – A soft, small bag.
Kelly bag – A style named after Grace Kelly; a large, structured handbag with distinctive closures.
Jelly Kelly – A bright rubber tote.
Short or Long – Huge or Small?
Here are a few tips that will help you understand when short handbags should be chosen over your normal handbag.
You should look for a bag that is opposite of your figure. If your tall and thin look for something rounded, if you're a bit shorter and a little more round look for a squarer or more rectangular bag like a clutch. However, you also want to think about proportions. A very petite woman should not be carrying round a huge bag and a tiny bag next to a more curved woman will give the illusion that she is bigger than she really is.
Handbag Length Rules
Now, comes the rule for bag length. What parts of your body do you like and want to accentuate? Having a handbag at this part of your body will accentuate the feature. Generally short handbags will make your chest area look larger, so if this is not a part of your body you want looking bigger, I would suggest trying a bag with a little longer straps. With short handbags you will also want to try it on. Fashion may be important, but you also want comfort, and if the bag is too cramping around your arm or keeps hitting your chest the bag will be a waste of money no matter how fashionable.
Remember that the "in" style may not always be the best style for your figure, your outfit or your needs. So be sure not to just pick up whatever everyone else says is fashionable; take your time and find the bag that is perfect for you.