Easy & Simple Tips for Amazing Hair
After the long summer at the beach, your hair is left with much salt, pollution and humidity that makes it dry, dull and flaky. The problem will get worse come the dry and long winter ahead. Fret not now, as you will learn great tips on how to make your hair look great again…every single day.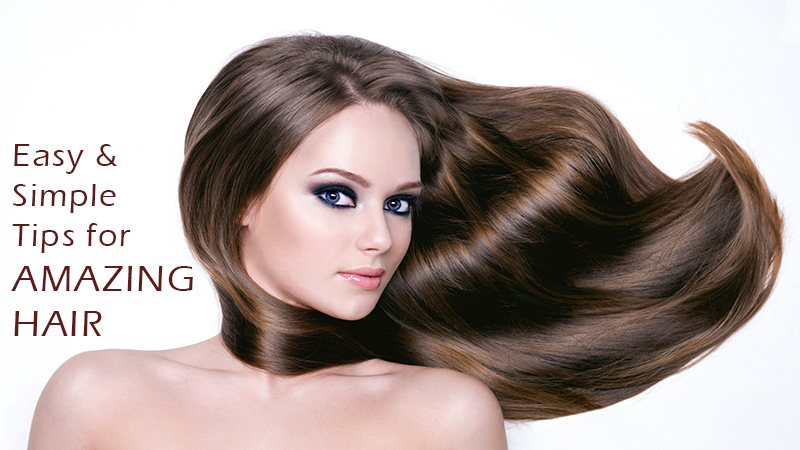 Wash your hair properly
The old formula of lather, rinse and repeat is definitely not for everyone.  Rinse your hair in the shower first before rubbing a fair amount of shampoo into the roots. Give them a good massage.
There is no need to scrub the ends of your hair.
Rinse before putting conditioner from the middle to the ends. Leave it for a few minutes before rinsing with cold water. Next, dry your hair by squeezing it gently, not rubbing, with a towel.
Use a clarifying shampoo once a week
Your hair looks less shiny and duller with pollution, oil, grime and contaminants. It needs help from a clarifying shampoo that can provide it with a quick detoxification by getting rid of impurities that ruin its glow.
The shampoo can make your mop looking shiny and fresh once more. However, use it once a week and follow up with a deep conditioner.
(Don't use a clarifying shampoo for dyed hair or it will lose its color.)
Choose and use only a natural-bristle hairbrush
A good choice is a wild-boar hairbrush, which can promote gloss and shine because it can draw oil from your scalp to the tips of your hair strands.   If you have fine hair, then natural bristle hairbrush can also create a volumized effect.
Use Argan oil instead of chemical hair sprays
Don't believe those who say that your hair would look gorgeous by spraying it with chemicals, as these products would do more harm than good.  While makers claim that these hair sprays could add sparkle to your mane, they won't, eventually.
In the short term, they might work, but they'd make the hair shaft rough and strip off hair's natural shine in the long-term due to Mica, a mineral added to most hair sprays. If you need more hair advice,ther are many OXO organic hair treatment reviews and information out there, check it out and be smarter on the subject.
Massage your scalp with vitamin E
Vitamin E capsules can be bought in the whole foods store.  Get a bottle for yourself, snip off their ends, and then squeeze the oil into a clean, dry bowl.  Before a shower, massage your scalp with it.
Give your hair and scalp a massage to improve blood circulation to your scalp. Vitamin E oil can also promote hair growth (good news to women with thinning hair). Do it daily and make your hair healthy, shiny and strong.
Add omega-3 fatty acids in your diet
Sources include herring, salmon, sardines and mackerel. Try adding them in your diet and make your hair strong and shiny with their omega-3 fatty acids. These substances are also in egg yolks.  If you're not a fan of any of these, ask your doctor about omega-3 fatty acid supplements.
Try a shine-boosting mask overnight
Not only does a beauty rest make your skin fresh, but it also provides nourishment to the scalp. Take advantage of it with a nourishing mask. Cover your hair with it, but don't forget to put a towel over the pillowcase before sleeping on it.
Alternatively, you can use coconut oil.  Simply massage it from the roots to the ends of your hair, sleep and then wash hair with shampoo in the morning.
Follow these tips and achieve that lustrous, healthy-looking hair in no time! Be consistent with the healthy hair habits and keep your mop looking amazing every day!