Create an Accessory Wardrobe on a Budget
Accessories are a great investment and perfect way to revitalize your existing clothing. But building an impressive accessory wardrobe need not blow a hole in your pocket. We show you what some of your best bets can be when building an accessory wardrobe.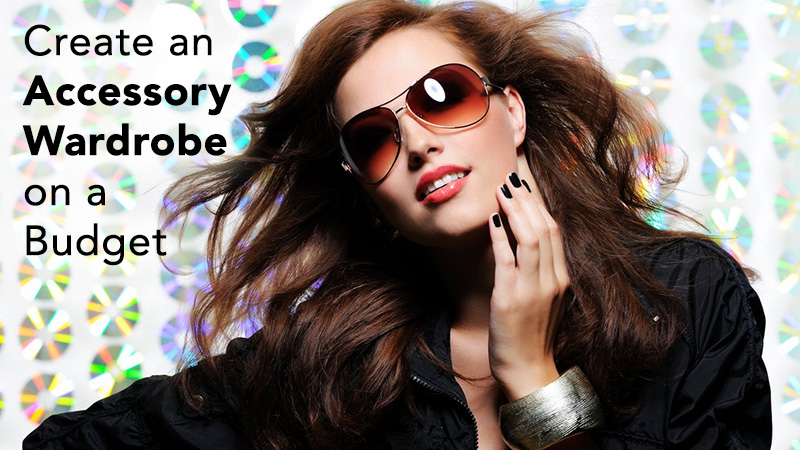 Shoes and Handbag
You should always have one nice pair of shoes. The minute you have a new dress on and you wear sloppy shoes – it wrecks the look. Invest in a good pair of shoes and one handbag. It doesn't have to be really high-priced, but it should be the very best you can afford in those two.
For a polished look, try a structured handbag. It doesn't have to be Hermes or Tod's, but it can be along the same clean lines from a moderately priced brand that specializes in their work. For a casual look try a slouchy leather bag that slings over one shoulder.
Black pumps and boots are the skinny jeans of an accessory wardrobe!
Jewelry
There are always a few pieces of jewelry that will mix and match with any style. The number one jewelry accessory has been and still remains – a really good watch. If you have a black wardrobe, and like the sleek city look, go with a silver watch. Gold is also a warmer colour that blends with anything.
Invest in some classics like a little pearl, gold or silver stud. Or for a more chic look, try hoop earrings. They match with anything. For holiday season, anything with stones or crystals is really big. Look for Swarovski crystal bracelets  or hoop earrings with stones.
Eyewear
Whether you're going out for a night on the town or just looking to add a little spice to your wardrobe, an attention-grabbing pair of sunglasses is just the thing to do the trick. Just like clothes, one pair doesn't cut it in today's fashion-savvy world! Whether you're going out for a night on the town or just looking to add a little spice to your wardrobe, an attention-grabbing pair of 'Glamour Glasses' is just the thing to do the trick. And glamour doesn't have to be expensive. Stores like Discountglasses.com can give you more budget-savvy options that you can count.
Anyone who participates in an active sport should invest in sunwear that is as protective as it is stylish. And from the office to the mall and almost anywhere in between, neutral-colored frames and lenses in traditional shapes will have you covered. Current fashion trends and celebrity styles have a heavy influence in the latest sunwear, and right now, that means big wraparounds, jewel-studded frames and colorful  shades with matching colored lenses. Check out some of the latest trends at Discountcontactlenses.com
Scarf and gloves
If you don't want to spend a lot you can't go wrong with classic good taste looks such as the equestrian look. The equestrian look doesn't mean jodhpurs and high riding boots. Classic taste is streamlined and simple with a scarf and elegant gloves.
The Hermes style scarf is a great investment, but there come many lookalikes at different price points. Aliexpress has a great selection of lovely scarves. Knot it loosely around your neck, wear it as a cravat or as a belt on your hip.
The riding glove is also hot this season because it looks very sporty especially with the rise of biker jackets. You can use it for weekend wear, or you dress it up a bit to wear it in the city.