Beyonce Knowles Hairstyles – Get the look for yourself! More Top Celebrity Hairstyles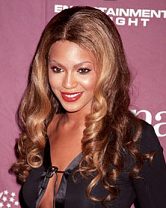 Get Beyonce Knowles' Hairstyles
Beyonce Knowles always looks fantastic, thanks in part to her amazing toffee-colored hair. Whether worn straight or curly, long or short, Beyonce's hair looks fantastic.
Beyonce's Hair Color
To create her gorgeous color for yourself, ask your colorist for a medium toffee shade with a hint of warmth, accented with caramel highlights. To keep your color long-lasting and shiny, use a color enhancing shampoo and conditioner made for brunettes like John Frieda's Brilliant Brunette line.
CHECK OUT BEYONCE'S HAIRSTYLES