What to Wear to a Wedding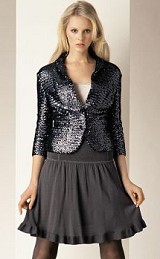 If you've been invited to a wedding, then you'll need something suitable to wear. Your attire should depend on several factors. First, what does the invitation specify? Often the wedding invitation you receive will let you know if the wedding is black tie or more casual.
Black-Tie Weddings
For a black tie wedding, it's formal wear all the way. Ladies should wear gowns that are appropriately dressy, and gentlemen should of course wear tuxedos or dark suits.
If the wedding is not black-tie, then you have a lot more choices when it comes to what to wear. Choose your attire depending on the weather, season, and relationship to the bride and groom. If you're a close family member, then you'll want to dress up a bit. However if you're a casual acquaintance you can get away with dressing slightly more casually.
Spring Weddings
For spring weddings, try light fabrics and pastel colors. However, it's never a good idea to wear white to a wedding. Dresses should be of appropriate length and you should always wear stockings. Men should wear the same kind of attire that they would to church or the office — slacks, blazer, and tie.
Summer Weddings
Summer weddings allow you to show a little more skin (but not much) because of the heat. Try spaghetti strap dresses in summery shades like yellow, orange, or pink. Or go classic and cool in neutral tones of beige and cream. Unless the wedding specifies that the dress code is casual, guys can expect to suffer through wearing slacks and a blazer.
Fall Weddings
For fall weddings, you can wear darker colors like burgundy, navy, and dark green. Fabrics as well will be heavier, and as always, stockings or pantyhose are an absolute must. Men should dress as they would for any semi-formal occasion as described above.
Winter Weddings
Winter weddings allow you to accent your outfits with necessary outerwear. A long, classic coat or faux fur is a great choice when you're attending a winter wedding. Fabrics and colors can be dark just like for fall. For guys, they can wear the standard dress ensemble of slacks, jacket and tie, or go slightly more casual in a nice sweater.
Basically, when deciding what to wear to a wedding, let common sense be your guide. Dress conservatively as if you were attending church. If you do that, you're sure to choose something that's appropriate and attractive.
Resources:
Is it okay for guests to wear black to a wedding?