Autumn/Fall 2006 Hairstyle Trends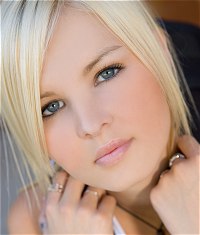 For 2006 deep, dark, rich browns are going on to become really exciting, especially with highlights. Also black for the first time in a couple of years is really trendy. Black goes great with pink, so if you are hitting the town in vibrant dresses think about darkening your hair to create a lovely and highly visible contrast. Also you will see the continuation of the sedu hairstyles. Top celebrities such as Jennifer Aniston, Jennifer Lopez, Paris Hilton, and Britney Spears are all sporting sedu hair straightener styles. Short hair can be great in blonde or dark, either way you want to have highlights integrated to give depth and interest to your hair. Highlighting with a chestnut brown base. You can see the highlights help to add activity to what might otherwise be fairly drab hair. Also notice the other important element in style – layers. Even with short hair you get plenty of layering to help you build volume and movement.  
A faux short look is also hot. Faux short hairstyle is the classic bun. This is also a great look for hair without highlights and can be done in many shades from medium blondes to reds, brunettes, and blacks. If you want to make it quirkier get something more eccentric than the flower – go for a plastic bird or a Barbie doll. The short business cut. This style is actually equally popular with both men and women. You can see it on Hillary Clinton, Ellen Degeneres, and the first lady, Mrs. Bush. It is a simple, but elegant and all business hairdo. It is popular due to the fact that it takes little upkeep to stay in place or quickly fix on a windy day. Also beyond this short do you will see shorter and more punk, messy. In some cases it may become almost shaved short. This variant will be slightly longer on top and coming to almost zero by the ears and back. As the females role in society and business grows so will the seriousness of her hair. Look for a marked increase in short, styled and very tight hairdo's similar in part to many current male hairstyles. The shaggy just sexed look. This look is just catching on and has been popularized on many of the current reality shows and other popular TV programming. This style is obviously longer. The secret to this style according to hairstylist is to not wash the hair every day. Washing the hair too often will dry it out and make it lose its natural shape. Hair with proper moisture and oils is healthier and looks better. Depending on the length of hair desired for this style some stylists recommend using gels and others creams to style it and make it look just sexed. Wash your hair at night and once it's dry, apply your personal hairstyling products. Then go to sleep, wake up, and go. You may need to fuss with it a little, but this is the style and it is hot. Long, sexy waves. Perms are way out of style, but the latest secret fashion trend in the hottest salons in NYC is salt spray and long sexy waves. Just as in the above hairstyle, you don't wash the hair everyday, as dirty hair is easier to manage. Get the hair damp and use salt water in a spray to bring out the wavy curls. Salt spray will do amazing things to your hair.