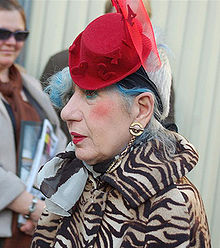 Anna Piaggi, Italian Vogue fashion writer and editor has died at 81.
The fashion world is mourning the loss of Anna Piaggi, an Italian fashion editor and writer famed for her blue hair and eccentric, vintage-tinged style.
She died in her home in Milan on Tuesday at the age of 81, the Telegraph reports.
Piaggi contributed to dozens of Italian fashion magazines including Vogue Italia. Jaunty, Quirky and irreverent, she creatively colored the fashion world with her unique and inimitable style and was dubbed the queen of international fashion.
The First Women's Magazine
Anna Piaggi born in Milan in 1931, began working as a translator for the publishing house Mondadori and become a fashion journalist in the early sixties.
Later, she become a fashion-editor of Ariadne, the first women's magazine that was to be the forerunner to all the others to come. In the 70s, she arrived at Vogue and brought about revolutionary changes to the magazine publishing world.
The Inventor of 'Vintage'
Her importance, however, is not limited to the journalist profession. In her spare time, Anna collected everything, especially in her many foreign trips, and invented the concept of "vintage" when nobody even imagined that buying and wearing used clothes would be the next 'in' thing.
One of Her Last Public Appearances