A Natural Neck Lift via Neck Creams
No one worries about their neck, jaw-line or double chin when they are young, until they hit their 30's and start worrying about the neck's sagginess, wrinkling, double chin showing and what not.
Worried about the turkey neck? Don't fret about disguising your age through your neck especially, as we have just the right tricks lined up for you!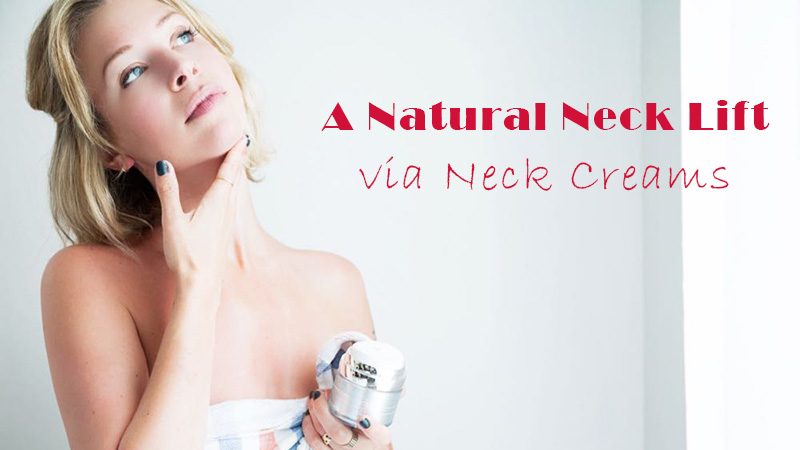 As our skin ages with time, it is a given fact that it will lose its elasticity, wear off and become dull. Nonetheless, if adequate steps are taken, you can actually sustain your youthful skin to the max and flaunt it even when you hit your 50's!
Take help from the given tips and tricks and enjoy your deep-necked v-shaped shirts next time at the beach!
What are Neck Creams?
Neck creams are specifically created to help the skin of the neck get back its glow and texture. While our neck skin is thin and soft, it is but natural that ordinary lotions and creams can actually damage it. Hence, if proper neck creams are applied on daily basis, they can reveal the true beauty of the neck and chest within days.
Why spend hundreds of dollars on surgeries and Botox treatments when neck creams can do the trick at home in a far less amount?
How to Use a Neck Cream?
Whether you choose a collagen based neck cream or settle for the anti-wrinkle neck cream, the idea is to apply it before sleeping at night. The neck cream works wonders if applied just before hitting the bed as its ingredients don't work well when in contact with the sun.
The ideal way to apply a neck cream is to wash the face and neck with a mild pH soap, pat dry and then apply it.
Application Tips
While there is no science in applying a cream; there are however some rules you can follow for the best results. Take a generous portion of the cream and apply slowly by starting from your chest upwards moving towards below the chin. Massage it in with your fingertips with a mild pressure. Voila!
How to choose a neck cream for specific skin?
Whether you have wrinkles or have dark spots on your neck, there is a cream waiting out there ready to be grabbed! The question is, what exactly is your skin issue?
Wrinkled Skin
For a wrinkled neck skin, opt for the famous Estee Lauder Resilience Lift Firming neck cream and enjoy a wrinkle free skin within days!
Dull Skin
For a dull skin, which doesn't match your face skin tone, apply the most preferred homemade cream made from yogurt, honey, lemon oil and beeswax.
Dry Skin
For a dry, pigmented neck skin, opt for the do not age cream by BRANDT(American cosmetic dermatologist)
Fine lines and Creases
For defined lines and creases, go for the Radical skin firming neck cream.
Know your skin type and choose a neck cream accordingly for the ideal results! Best of luck!